July 17th, 1954.
July 17th, 1954, was a Saturday. It was day 198 of 1954. The decade was the Fifties.
67 years, 11 months and 16 days have passed since July 17th, 1954.
The zodiac star sign for this date is Cancer.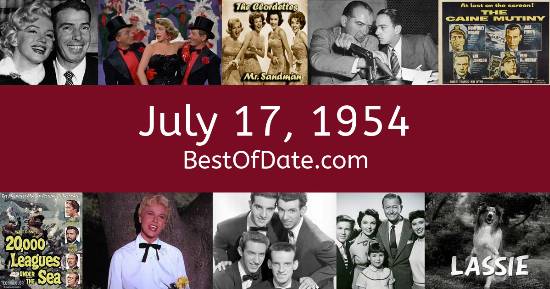 Take me back to July 17th, 1954!
Let's take a walk down memory lane.
The date is July 17th, 1954, and it's a Saturday. Anyone born today will have the star sign Cancer. Currently, people are enjoying their weekend.
It's summer, so the temperatures are warmer and the evenings are longer than usual. In music, the song "Little Things Mean a Lot" by Kitty Kallen is the best-selling record at the moment. Dwight David Eisenhower is currently the President of the United States, and Winston Churchill is the Prime Minister of the United Kingdom.
In fashion, women are sporting the popular "The New Look" by Christian Dior. This formal style includes rounded shoulders, a full-skirted silhouette and a tight waist. Meanwhile, men are beginning to follow a new "Teddy Boy" trend that involves greased-back hair, extremely narrow trousers and velvet-collared jackets. Because it's 1954, anyone listening to a jukebox or radio station is likely to hear songs from artists such as Kitty Kallen, Perry Como, Rosemary Clooney, The Crew-Cuts, Jo Stafford, Eddie Fisher, The Four Knights, The Four Aces and Doris Day. If you were to travel back to this day, notable figures such as Albert Einstein and James Dean would be still alive.
On TV, people are watching popular shows such as "The Gene Autry Show", "The Cisco Kid", "The Danny Thomas Show" and "Annie Oakley". Kids and teenagers are watching TV shows such as "Looney Tunes", "Tom and Jerry", "Crusader Rabbit" and "Adventures of Superman". If you're a kid or a teenager, then you're probably playing with toys such as Foto-Electric Baseball, Tiny Tears (doll), Pitchin' Pal and Feed the Elephant.
Cars in 1954.
1954 saw the introduction of cars such as the Vauxhall Cresta, the Pontiac Pathfinder, the Mercedes-Benz SL-Class, the AC Aceca, the Dodge C series and the Packard Pacific.

Were you born on this date?
If you were born on this date, then it is unlikely that you will remember anything from the year 1954.
This is because humans find it difficult to retrieve memories from their early childhood.
If you are looking for some childhood nostalgia, then you should check out July 17th, 1960 instead.