May 24th, 1958.
May 24th, 1958, was a Saturday. It was day 144 of 1958. The decade was the 1950s.
63 years and 26 days have passed since May 24th, 1958.
The zodiac star sign for this date is Gemini.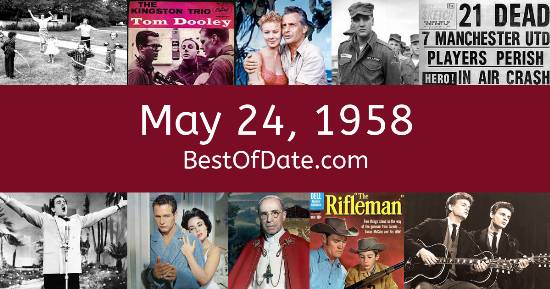 Take me back to May 24th, 1958!
Let's take a stroll down memory lane!
The date is May 24th, 1958 and it's a Saturday. Anyone born today will have the star sign Gemini. Currently, people are enjoying their weekend.
The summer of 1958 has finally arrived. The weather has warmed up and the evenings are brighter than usual. In music, the song "All I Have to Do Is Dream" by The Everly Brothers is the best-selling record at the moment. Dwight David Eisenhower is currently the President of the United States and Harold Macmillan is the Prime Minister of the United Kingdom.
In fashion, women are sporting chemise dresses, sheaths, sack dresses and straight-cut suits. Short boxy jackets and shift dresses are also beginning to become popular. Meanwhile, a lot of men are sporting a "Teddy Boy" style that involves leather jackets, greased-back hair, extremely narrow trousers and velvet-collared jackets. Men are also wearing formal suits as daywear. Tailfins on cars are extremely popular at the moment. The design looks futuristic, almost like a rocket or the twin rudders on the back of an airplane. It's 1958, so radio stations and jukeboxes are playing songs from singers such as Domenico Modugno, The Everly Brothers, Elvis Presley, David Seville, Perez Prado, Billy Vaughn, Perry Como and The Champs.
On TV, people are watching popular shows such as "What's My Line?", "The Jack Benny Program", "Fury" and "Decoy". Kids and teenagers are watching TV shows such as "Captain Kangaroo", "Mighty Mouse Playhouse", "Heckle and Jeckle" and "Leave It to Beaver".
Were you born on this date?
If you were born on this date, then it is unlikely that you will remember anything from the year 1958.
This is because humans find it difficult to retrieve memories from their early childhood.
If you are looking for some childhood nostalgia, then check out May 24th, 1964 instead.