August 5th, 1964.
August 5th, 1964, was a Wednesday. It was day 218 of 1964. The decade was the Swinging Sixties.
58 years and 12 days have passed since August 5th, 1964.
The zodiac star sign for this date is Leo.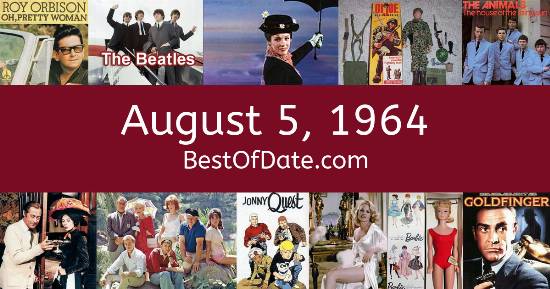 Take me back to August 5th, 1964!
Let's take a stroll down memory lane!
The date is August 5th, 1964, and it's a Wednesday. Anyone born today will have the star sign Leo. It's summer, so the temperatures are warmer and the evenings are longer than usual.
The song A Hard Day's Night by The Beatles is on top of the singles charts in both the USA and the United Kingdom. Lyndon Baines Johnson is currently the President of the United States, and the movie The Unsinkable Molly Brown is at the top of the Box Office. In the United Kingdom, Sir Alec Douglas-Home is the current Prime Minister.
Because it's 1964, radio stations are playing hit songs from music artists such as The Beatles, Roy Orbison, The Animals, The Supremes and The Beach Boys. In fashion, women are wearing miniskirts and "space age" attire with synthetic materials. The "Dolly Girl" look has also become popular. Meanwhile, men are beginning to transition into "surf rock" fashion, which has been made popular by bands such as The Beach Boys. "Greasers", who are influenced by rock 'n' roll fashion, have also become a popular subculture. If you were to travel back to this day, notable figures such as Herbert Hoover, Sam Cooke, T. S. Eliot and Winston Churchill would all be still alive.
On TV, people are watching popular shows such as "Perry Mason", "Bonanza", "Danger Man" and "The Andy Griffith Show". Children and teenagers are currently watching television shows such as "Mighty Mouse Playhouse", "Heckle and Jeckle", "Mister Ed" and "Davey and Goliath". If you're a kid or a teenager, then you're probably playing with toys such as Metal House robots, Tonka trucks, Chatter Telephone and Army men.
Personality traits.
Check out our personality summary for people who were born on August 5th, 1964.
What are your strengths and weaknesses?
Cars in 1964.
1964 saw the introduction of cars such as the Chevrolet Chevelle, the Ford Mustang, the Opel Diplomat, the Ford Corsair, the Reliant Rebel and the Buick Sport Wagon.

Were you born on this date?
If you were born on this date, then it is unlikely that you will remember anything from the year 1964.
This is because humans find it difficult to retrieve memories from their early childhood.
If you are looking for some childhood nostalgia, then you should check out August 5th, 1970 instead.