November 21st, 1965.
November 21st, 1965, was a Sunday. It was day 325 of 1965. The decade was the 1960s.
56 years, 6 months and 4 days have passed since November 21st, 1965.
The zodiac star sign for this date is Scorpio.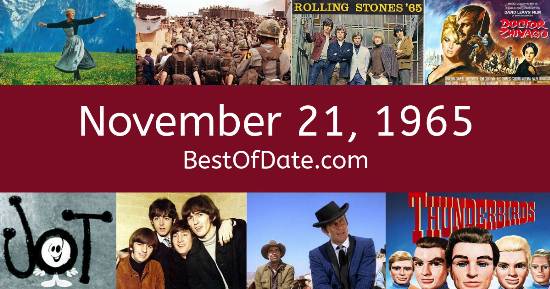 Take me back to November 21st, 1965!
Let's take a stroll down memory lane!
The date is November 21st, 1965 and it's a Sunday. Anyone born today will have the star sign Scorpio. Currently, people are enjoying their weekend.
In America, Thanksgiven Day of 1965 is just around the corner. It's November, so the evenings are getting darker and the days are getting colder. The song Get Off My Cloud by The Rolling Stones is on top of the singles charts in both the USA and the United Kingdom.
Lyndon Baines Johnson is currently the President of the United States and the movie The Sound of Music is at the top of the Box Office. In the United Kingdom, Harold Wilson is the current Prime Minister. In fashion, women are wearing miniskirts and "space age" attire with synthetic materials. The "Dolly Girl" look has also become popular. Meanwhile, men are beginning to transition into "surf rock" fashion, which has been made popular by bands such as The Beach Boys. "Greasers", who are influenced by rock 'n' roll fashion, have also become a popular subculture.
Because it's 1965, radio stations are playing hit songs from music artists such as The Rolling Stones, The Byrds, The Beatles, Sonny & Cher and The Supremes. If you were to travel back to this day, notable figures such as Walt Disney would be still alive. On TV, people are watching popular shows such as "What's My Line?", "Danger Man", "Steptoe and Son" and "Shindig!".
Kids and teenagers are watching TV shows such as "Courageous Cat and Minute Mouse", "The Mighty Hercules", "The Patty Duke Show" and "Milton the Monster". Popular toys at the moment include the likes of Etch A Sketch, Rock-a-Stack, G.I. Joe: America's Movable Fighting Man and Operation.
Cars in 1965.
1965 saw the introduction of cars such as the Cadillac Calais, the Ford Bronco, the Renault 16, the Chevrolet Caprice, the Nissan President and the Peugeot 204.

Were you born on this date?
If you were born on this date, then it is unlikely that you will remember anything from the year 1965.
This is because humans find it difficult to retrieve memories from their early childhood.
If you are looking for some childhood nostalgia, then check out November 21st, 1971 instead.