January 24th, 1970.
January 24th, 1970, was a Saturday. It was day 24 of 1970. The decade was the 1970s.
51 years, 3 months and 13 days have passed since January 24th, 1970.
The zodiac star sign for this date is Aquarius.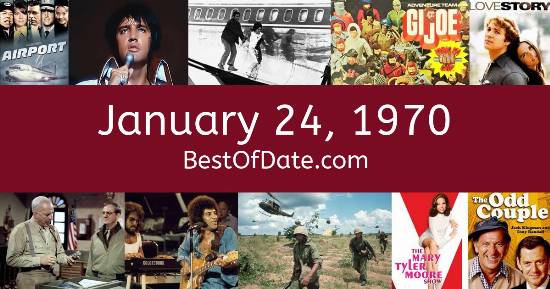 Take me back to January 24th, 1970!
Let's take a stroll down memory lane!
The date is January 24th, 1970 and it's a Saturday. Anyone born today will have the star sign Aquarius. Currently, people are enjoying their weekend.
In America, the song Raindrops Keep Falling On My Head by B.J. Thomas is on top of the singles charts. Over in the UK, Two Little Boys by Rolf Harris is the number one hit song. Richard Nixon is currently the President of the United States and Harold Wilson is the Prime Minister of the United Kingdom.
It's 1970, so radio stations are playing hit songs from artists such as Elvis Presley, Mungo Jerry, Shocking Blue, Diana Ross, Simon & Garfunkel, The Jackson 5 and The Carpenters. In fashion, the hippie look from the 1960s is still popular. Clothing items such as tie dye shirts, bell-bottoms, midi skirts, gauchos and Mexican blouses are being worn by women. Meanwhile, men are wearing dark satin shirts, ethnic-looking tunics, bell bottom jeans, tweed sports jackets and turtlenecks. On TV, people are watching popular shows such as "The Ed Sullivan Show", "Gunsmoke", "Marcus Welby, M.D." and "The Brady Bunch".
Children and teenagers are currently watching television shows such as "The Pink Panther Show", "Scooby-Doo, Where Are You!", "Dastardly and Muttley in Their Flying Machines" and "Cattanooga Cats". If you're a kid or a teenager, then you're probably playing with toys such as Rock 'Em Sock 'Em Robots, Lite-Brite, Frisbee and G.I. Joe Adventure Team.