November 6th, 1975.
November 6th, 1975, was a Thursday. It was day 310 of 1975. The decade was the 1970s.
45 years, 7 months and 5 days have passed since November 6th, 1975.
The zodiac star sign for this date is Scorpio.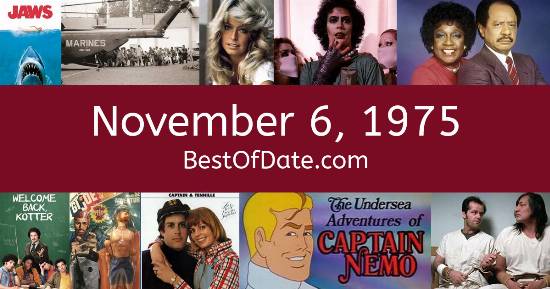 Take me back to November 6th, 1975!
Let's take a stroll down memory lane!
The date is November 6th, 1975 and it's a Thursday. Anyone born today will have the star sign Scorpio. It's November, so the evenings are getting darker and the days are getting colder.
In America, the song Island Girl by Elton John is on top of the singles charts. Over in the UK, Space Oddity by Daviod Bowie is the number one hit song. Gerald Ford is currently the President of the United States and Harold Wilson is the Prime Minister of the United Kingdom.
In fashion, the hippie look from the 1960s and early 1970s has disappeared. The disco look is beginning to take off. Women are wearing t-shirts, khaki pants, mood rings, kimonos and flare jumpsuits. Meanwhile, men are wearing velvet sports coats, slogan t-shirts, flannel, frilly shirts, jeans and khaki chinos. Because it's 1975, the music charts are being dominated by the likes of Billy Swan, 10cc, Alain Barriere, Morris Albert, the Salsoul Orchestra, Captain & Tennille, Elton John and David Bowie. On TV, people are watching popular shows such as "McMillan & Wife", "M*A*S*H", "Happy Days" and "Starsky & Hutch".
Meanwhile, gamers are playing titles such as "Pong", "Tank", "Pursuit" and "Gun Fight". Kids and teenagers are watching TV shows such as "Captain Kangaroo", "The Pink Panther Show", "Sesame Street" and "Happy Days". Popular toys at the moment include the likes of VertiBird (toy helicopter), Weebles, Magnavox Odyssey and Baby Alive (doll).
Were you born on this date?
If you were born on this date, then it is unlikely that you will remember anything from the year 1975.
This is because humans find it difficult to retrieve memories from their early childhood.
If you are looking for some childhood nostalgia, then check out November 6th, 1981 instead.