March 22nd, 1976.
March 22nd, 1976, was a Monday. It was day 82 of 1976. The decade was the 1970s.
45 years, 2 months and 21 days have passed since March 22nd, 1976.
The zodiac star sign for this date is Aries.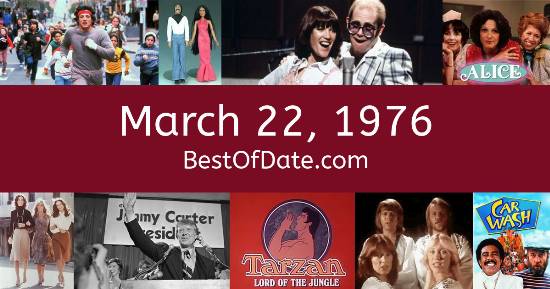 Take me back to March 22nd, 1976!
Let's take a stroll down memory lane!
The date is March 22nd, 1976 and it's a Monday. Anyone born today will have the star sign Aries. Spring has arrived and the days have become longer.
In America, the song December 1963 by Four Seasons is on top of the singles charts. Over in the UK, Save Your Kisses For Me by Brotherhood of Man is the number one hit song. Gerald Ford is currently the President of the United States and Harold Wilson is the Prime Minister of the United Kingdom.
Because it's 1976, the music charts are being dominated by the likes of ABBA, Queen, Chicago, Elton John, Kiki Dee, Wings and Rod Stewart. In fashion, clothes have become baggier and pants have become less flared. Sports clothing and the "disco look" are both popular at the moment. Women are wearing sundresses, strapless tops with t-shirts, shoulder pads, cardigans, knee-length skirts and daisy dukes. Meanwhile, men are wearing tracksuits, flare jeans, low-top sneakers and untucked collared shirts. On TV, people are watching popular shows such as "Columbo.", "Maude", "Last of the Summer Wine" and "Wonder Woman".
Meanwhile, gamers are playing titles such as "Tank", "Pursuit" and "Gun Fight". Kids and teenagers are watching TV shows such as "Captain Kangaroo", "The Pink Panther Show", "Sesame Street" and "Fat Albert and the Cosby Kids". If you're a kid or a teenager, then you're probably playing with toys such as Etch A Sketch, Lite-Brite, Battleship (game) and Micronauts.
Were you born on this date?
If you were born on this date, then it is unlikely that you will remember anything from the year 1976.
This is because humans find it difficult to retrieve memories from their early childhood.
If you are looking for some childhood nostalgia, then check out March 22nd, 1982 instead.