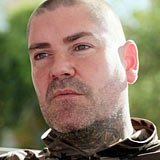 Which generation does Shane Lynch belong to?
Shane Lynch belongs to the Generation X demographic cohort.
"So he isn't a Millennial?!"
Shane Lynch does not belong to the Millennial generation. The Millennial generation started in 1980, which was 4 years after he was born (1976).
This means that he is actually Gen-X. Or the "MTV generation", as it is sometimes called.
What is he known for?
He was a member of the Irish pop group Boyzone.
How tall is he?
Shane Lynch is about 6 foot tall. That is 182 in cm or 1.82 in meters.
This means that he is noticeably taller than the average American male.
See also: Celebrities who are 6 foot.
What age will he be in 2023?
He turned 47 in July of 2023.
When will Shane Lynch turn 50?
He will turn 50 years old on July 3, 2026. That's roughly 2 years and 6 months from now.
When is Shane Lynch's next birthday?
His next birthday will be on July 3, 2024. On that date, he will turn 48.
What day of the week was he born on?
He was born on a Saturday.
Other people who were born around July 3, 1976
Celebrities and other notable figures who are roughly the same age as Shane Lynch.
People who are taller than him
Celebrities and other figures who are slightly taller than him.

Real-estate developer Deceased
Born on October 11, 1905
Height: 1.85m / 6 ft 1 inches


American football player Deceased
Born on February 14, 1973
Height: 1.88m / 6 ft 2 inches


Runner and convicted murderer
Born on November 22, 1986
Height: 1.86m / 6 ft 1 inches

People who are shorter than him
Celebrities and other figures who are slightly shorter than him.

Actor
Born on July 25, 1967
Height: 1.78m / 5 ft 10 inches


Rap star
Born on April 16, 1993
Height: 1.78m / 5 ft 10 inches


British politician
Born on October 2, 1978
Height: 1.79m / 5 ft 10 inches

---
Other Content & Useful Links
---
© 2014-2023 BestOfDate.com