December 25th, 1951.
December 25th, 1951, was a Tuesday. It was day 359 of 1951. The decade was the 1950s.
69 years, 11 months and 13 days have passed since December 25th, 1951.
The zodiac star sign for this date is Capricorn.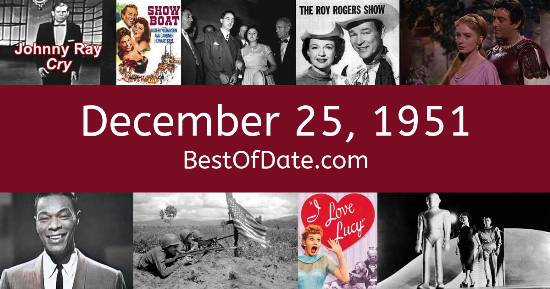 Take me back to December 25th, 1951!
Let's take a stroll down memory lane!
The date is December 25th, 1951 and it's a Tuesday. Anyone born today will have the star sign Capricorn. It's Christmas Day of 1951, so most people are exchanging presents and spending time at home with their families.
In music, the song "(It's No) Sin" by Eddy Howard and His Orchestra is the best-selling record at the moment. Harry S. Truman is currently the President of the United States and Winston Churchill is the Prime Minister of the United Kingdom. In fashion, women are sporting the popular "The New Look" by Christian Dior. This formal style includes rounded shoulders, a full-skirted silhouette and a tight waist. Meanwhile, men are beginning to follow a new "Teddy Boy" trend that involves greased-back hair, extremely narrow trousers and velvet-collared jackets.
In Asia, the Korean War is raging on between South Korea and North Korea. It's 1951, so radio stations and jukeboxes are playing songs from artists such as Nat King Cole, Tony Bennett, Les Paul, Rosemary Clooney, Mary Ford, Mario Lanza, The Weavers, Perry Como and Patti Page. On TV, people are watching popular shows such as "The Lone Ranger", "The Cisco Kid", "The Colgate Comedy Hour" and "I Love Lucy".
Children and teenagers are currently watching television shows such as "Looney Tunes", "Tom and Jerry", "Jim and Judy in Teleland" and "Crusader Rabbit". If you're a kid or a teenager, then you're probably playing with toys such as Dimestore soldiers, Toy Guns, Tiny Tears (doll) and BAS-KET Miniature Basketball.
Cars in 1951.
1951 saw the introduction of cars such as the Ford Country Squire, the Hudson Hornet, the Ford Zephyr, the Renault Frégate, the Mercedes-Benz W187 and the BMW 501.

Were you born on this date?
If you were born on this date, then it is unlikely that you will remember anything from the year 1951.
This is because humans find it difficult to retrieve memories from their early childhood.
If you are looking for some childhood nostalgia, then check out December 25th, 1957 instead.