January 27, 1956
January 27, 1956, was a Friday. It was the 27th day of 1956. The decade was the fifties.
67 years, 10 months, and 1 day have passed since January 27, 1956.
The zodiac star sign for this date is Aquarius.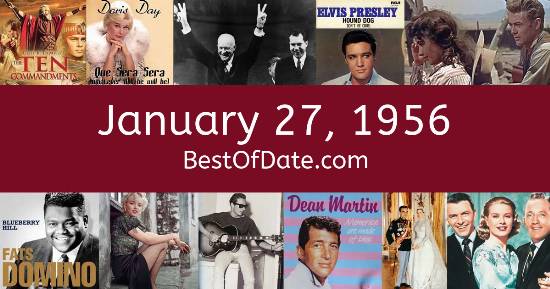 Facts
This date occurred 24,777 days ago. Approximately 826 months have passed. It was the 27th day of 1956, in week 04. The decade was the fifties. People who were born on January 27, 1956, are now 67 years old and belong to the Baby Boomer generation. 1956 was a leap year, which means that it had an extra day in February. 275 seasons of weather have come and gone since then.
Take me back to January 27, 1956
Let's go back to the fifties.
The date is January 27, 1956, and it's a Friday. Babies who are born today will have the star sign Aquarius. Many people have "that Friday feeling" and are looking forward to the weekend.
In music, the song "Memories Are Made of This" by Dean Martin is the best-selling record at the moment. Dwight David Eisenhower is the President of the United States, and Sir Anthony Eden is the Prime Minister of the United Kingdom. On television, people are watching popular shows such as "The Lone Ranger", "What's My Line?", "The Gene Autry Show", and "The Roy Rogers Show".
In fashion, women are sporting chemise dresses, sheaths, sack dresses and straight-cut suits. Short boxy jackets and shift dresses are also beginning to become popular. Meanwhile, a lot of men are sporting a "Teddy Boy" style that involves leather jackets, greased-back hair, extremely narrow trousers and velvet-collared jackets. Men are also wearing formal suits as daywear. Tailfins on cars are extremely popular at the moment. The design looks futuristic, almost like a rocket or the twin rudders on the back of an airplane. It's 1956, so radio stations and jukeboxes are playing songs from singers such as Elvis Presley, Nelson Riddle, The Platters, Gogi Grant, Les Baxter, Doris Day, Dean Martin and Kay Starr.
If you were to travel back to this day, notable figures such as Humphrey Bogart would be still alive. Children and teenagers are watching television shows such as "Looney Tunes", "Tom and Jerry", "Father Knows Best", and "The Mickey Mouse Club". Children are playing with toys such as Foto-Electric Baseball, Feed the Elephant, Roy Rogers Plastic Figures, and Wooly Willy.
Cars in 1956
1956 saw the introduction of cars such as the 1957 Chevrolet, the Mercedes-Benz W105, the Studebaker Hawk, the Volvo Amazon, the Continental Mark II, and the Ford F-Series (third generation).

Were you born on January 27, 1956?
If you were born on this date, then it is unlikely that you will remember anything from the year 1956.
This is because humans find it difficult to retrieve memories of their early childhood.
If you are looking for some childhood nostalgia, then you should check out January 27, 1962, instead.