December 10th, 1957.
December 10th, 1957, was a Tuesday. It was day 344 of 1957. The decade was the Fifties.
64 years, 6 months and 20 days have passed since December 10th, 1957.
The zodiac star sign for this date is Sagittarius.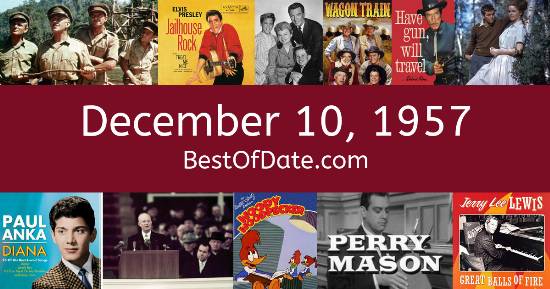 Take me back to December 10th, 1957!
Let's take a stroll down memory lane!
The date is December 10th, 1957, and it's a Tuesday. Anyone born today will have the star sign Sagittarius. The Christmas season of 1957 is in full swing. People are putting up their decorations and festive songs are playing on the radio.
In music, the song "You Send Me" by Sam Cooke is the best-selling record at the moment. Dwight David Eisenhower is currently the President of the United States, and Harold Macmillan is the Prime Minister of the United Kingdom. In fashion, women are sporting chemise dresses, sheaths, sack dresses and straight-cut suits. Short boxy jackets and shift dresses are also beginning to become popular. Meanwhile, a lot of men are sporting a "Teddy Boy" style that involves leather jackets, greased-back hair, extremely narrow trousers and velvet-collared jackets. Men are also wearing formal suits as daywear.
Tailfins on cars are extremely popular at the moment. The design looks futuristic, almost like a rocket or the twin rudders on the back of an airplane. It's 1957, so radio stations and jukeboxes are playing songs from singers such as Elvis Presley, Pat Boone, The Diamonds, Tab Hunter, Jimmy Dorsey, Guy Mitchell, Perry Como and Sonny James. On TV, people are watching popular shows such as "The Danny Thomas Show", "Tonight Starring Jack Paar", "Perry Mason" and "Maverick".
Children and teenagers are currently watching television shows such as "Father Knows Best", "The Mickey Mouse Club", "Captain Pugwash" and "The Woody Woodpecker Show". If you're a kid or a teenager, then you're probably playing with toys such as Foto-Electric Baseball, Spinning Tops, Tiny Tears (doll) and BAS-KET Miniature Basketball.
Cars in 1957.
1957 saw the introduction of cars such as the Rambler Rebel, the Pontiac Bonneville, the Opel Rekord P1, the Mercury Colony Park, the Alfa Romeo 2000 and the Datsun 210.

Were you born on this date?
If you were born on this date, then it is unlikely that you will remember anything from the year 1957.
This is because humans find it difficult to retrieve memories from their early childhood.
If you are looking for some childhood nostalgia, then you should check out December 10th, 1963 instead.