April 1st, 1959.
April 1st, 1959, was a Wednesday. It was day 91 of 1959. The decade was the 1950s.
62 years, 1 months and 5 days have passed since April 1st, 1959.
The zodiac star sign for this date is Aries.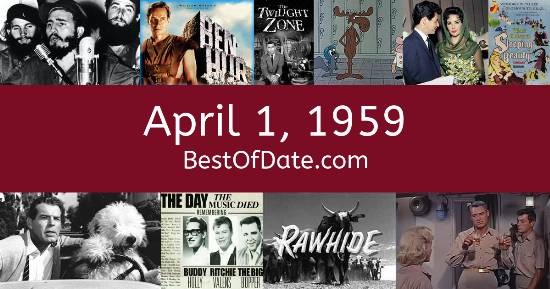 Take me back to April 1st, 1959!
Let's take a stroll down memory lane!
The date is April 1st, 1959 and it's a Wednesday. Anyone born today will have the star sign Aries. It is April Fool's Day, which means that people are playing practical jokes on one another.
The summer of 1959 is drawing closer and temperatures have started to rise. In music, the song "Venus" by Frankie Avalon is the best-selling record at the moment. Dwight David Eisenhower is currently the President of the United States and Harold Macmillan is the Prime Minister of the United Kingdom.
In fashion, women are sporting chemise dresses, sheaths, sack dresses and straight-cut suits. Short boxy jackets and shift dresses are also beginning to become popular. Meanwhile, a lot of men are sporting a "Teddy Boy" style that involves leather jackets, greased-back hair, extremely narrow trousers and velvet-collared jackets. Men are also wearing formal suits as daywear. Tailfins on cars are extremely popular at the moment. The design looks futuristic, almost like a rocket or the twin rudders on the back of an airplane. It's 1959, so radio stations and jukeboxes are playing hit songs from artists such as Johnny Horton, Bobby Darin, Lloyd Price, Frankie Avalon, Paul Anka, The Browns, The Fleetwoods and Wilbert Harrison.
On TV, people are watching popular shows such as "What's My Line?", "The Jack Benny Program", "Gunsmoke" and "Tonight Starring Jack Paar". Kids and teenagers are watching TV shows such as "Lassie", "Captain Kangaroo", "The Gumby Show" and "Heckle and Jeckle". If you're a kid or a teenager, then you're probably playing with toys such as Crater Critters.