December 31st, 1960.
December 31st, 1960, was a Saturday. It was day 366 of 1960. The decade was the Swinging Sixties.
61 years, 7 months and 16 days have passed since December 31st, 1960.
The zodiac star sign for this date is Capricorn.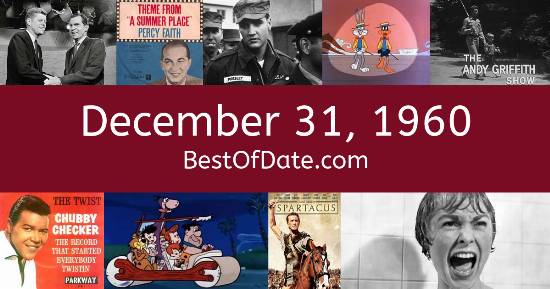 Take me back to December 31st, 1960!
Let's go back in time!
The date is December 31st, 1960, and it's a Saturday. Anyone born today will have the star sign Capricorn. Currently, people are enjoying their weekend.
It's News Years Eve and everyone is looking forward to what the year 1961 will bring them. In America, the song Are You Lonesome Tonight by Elvis Presley is on top of the singles charts. Over in the UK, It's Now Or Never by Elvis Presley is the number one hit song.
Dwight David Eisenhower is currently the President of the United States, and the movie Exodus is at the top of the Box Office. In the United Kingdom, Harold Macmillan is the current Prime Minister. Tailfins on cars are extremely popular at the moment. The design looks futuristic, almost like a rocket or the twin rudders on the back of an airplane.
Because it's 1960, radio stations are playing hit songs from artists such as Percy Faith, Elvis Presley, The Everly Brothers, Connie Francis and Johnny Preston. In fashion, many of the trends from the late 1950s are still popular. Women are wearing tailored skirts, short boxy jackets and shift dresses. Trousers are also becoming popular amongst women. Meanwhile, men are wearing polo shirts, argyle socks, sweater vests, loafers and harrington jackets. If you were to travel back to this day, notable figures such as Ernest Hemingway would be still alive.
On TV, people are watching popular shows such as "You Bet Your Life", "Have Gun - Will Travel", "Wagon Train" and "Maverick". Children and teenagers are currently watching television shows such as "Lassie", "Captain Kangaroo", "Leave It to Beaver" and "Bozo: The World's Most Famous Clown". If you're a kid or a teenager, then you're probably playing with toys such as Play-Doh, the Frisbee, the Hula Hoop and Matchbox toy cars.
Cars in 1960.
1960 saw the introduction of cars such as the Chevrolet Corvair, the Dodge Polara, the Nissan Cedric, the Plymouth Valiant, the Pontiac Tempest and the Opel Rekord P2.

Were you born on this date?
If you were born on this date, then it is unlikely that you will remember anything from the year 1960.
This is because humans find it difficult to retrieve memories from their early childhood.
If you are looking for some childhood nostalgia, then you should check out December 31st, 1966 instead.