July 31, 1962
July 31, 1962, was a Tuesday. It was the 212th day of 1962. The decade was the swinging sixties.
61 years, 4 months, and 8 days have passed since July 31, 1962.
The zodiac star sign for this date is Leo.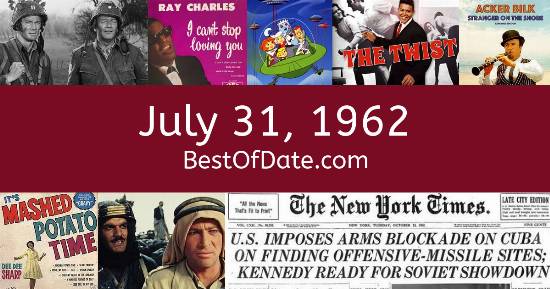 Facts
This date occurred 22,410 days ago. Approximately 747 months have passed. It was the 212th day of 1962, in week 31. The decade was the swinging sixties. People who were born on July 31, 1962, are now 61 years old and belong to the Baby Boomer generation. 249 seasons of weather have come and gone since then.
Take me back to July 31, 1962
Let's go back to the swinging sixties.
The date is July 31, 1962, and it's a Tuesday. Babies who are born today will have the star sign Leo. The summer of 1962 is in full swing. The weather is warm, and the evenings are brighter than usual. Most schools and colleges are now finished until August or September.
In America, the song "Roses Are Red" by Bobby Vinton is at the top of the singles charts, while "I Remember You" by Frank Ifield is the number-one song in the UK. John Fitzgerald Kennedy is the President of the United States, and the movie That Touch of Mink is at the top of the box office. Harold Macmillan is the Prime Minister of the United Kingdom.
On television, people are watching popular shows such as "The Jack Benny Program", "The Danny Thomas Show", "Gunsmoke", and "Rawhide". In fashion, many of the trends from the late 1950s are still popular. Women are wearing tailored skirts, short boxy jackets and shift dresses. Trousers are also becoming popular amongst women. Meanwhile, men are wearing polo shirts, argyle socks, sweater vests, loafers and harrington jackets. Because it's 1962, radio stations are playing hit songs from music artists such as Ray Charles, The Four Seasons, Elvis Presley, Chubby Checker, Bobby Vinton and Shelley Fabares.
If you were to travel back to this day, notable figures such as Marilyn Monroe, Robert Frost, Ernie Davis, and John F. Kennedy would all still be alive. Kids and teenagers are watching TV shows such as "Mighty Mouse Playhouse", "Captain Pugwash", "Courageous Cat and Minute Mouse", and "Davey and Goliath". Children are playing with toys such as Wooly Willy, Tonka trucks, Troll doll, and Ken (doll).
Cars in 1962
1962 saw the introduction of cars such as the Buick Wildcat, the Ford Cortina, the Mitsubishi Colt, the Pontiac LeMans, the Dodge Custom 880, and the Plymouth Fury (3rd generation).

Were you born on July 31, 1962?
If you were born on this date, then it is unlikely that you will remember anything from the year 1962.
This is because humans find it difficult to retrieve memories of their early childhood.
If you are looking for some childhood nostalgia, then you should check out July 31, 1968, instead.