March 25th, 1965.
March 25th, 1965, was a Thursday. It was day 84 of 1965. The decade was the 1960s.
56 years, 1 months and 25 days have passed since March 25th, 1965.
The zodiac star sign for this date is Aries.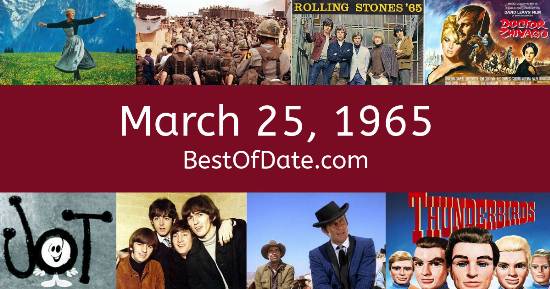 Take me back to March 25th, 1965!
Let's take a stroll down memory lane!
The date is March 25th, 1965 and it's a Thursday. Anyone born today will have the star sign Aries. Spring has arrived and the days have become longer.
In America, the song Eight Days A Week by The Beatles is on top of the singles charts. Over in the UK, The Last Time by The Rolling Stones is the number one hit song. Lyndon Baines Johnson is currently the President of the United States and Harold Wilson is the Prime Minister of the United Kingdom.
In fashion, women are wearing miniskirts and "space age" attire with synthetic materials. The "Dolly Girl" look has also become popular. Meanwhile, men are beginning to transition into "surf rock" fashion, which has been made popular by bands such as The Beach Boys. "Greasers", who are influenced by rock 'n' roll fashion, have also become a popular subculture. Because it's 1965, radio stations are playing hit songs from music artists such as The Rolling Stones, The Byrds, The Beatles, Sonny & Cher and The Supremes. A musical drama film called "The Sound of Music" is currently being shown in movie theaters.
On TV, people are watching popular shows such as "The Jack Benny Program", "Wagon Train", "Rawhide" and "Hazel". Kids and teenagers are watching TV shows such as "The Gumby Show", "My Three Sons", "The Flintstones" and "Ricochet Rabbit & Droop-a-Long". If you're a kid or a teenager, then you're probably playing with toys such as Etch A Sketch, the Easy-Bake Oven, Johnny Seven OMA (toy gun) and Motorific (slot car toys).
Personality traits.
Check out our personality summary for people who were born on this date.
What are your strengths and weaknesses?