March 11th, 1969.
March 11th, 1969, was a Tuesday. It was day 70 of 1969. The decade was the Swinging Sixties.
53 years, 6 months and 19 days have passed since March 11th, 1969.
The zodiac star sign for this date is Pisces.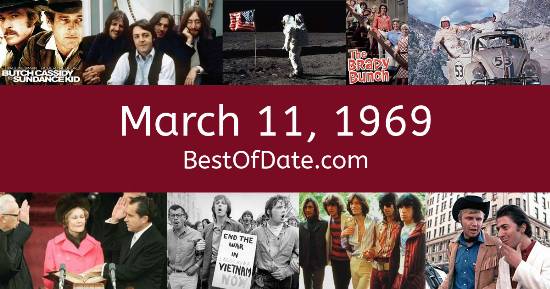 Take me back to March 11th, 1969!
Let's take a stroll down memory lane!
The date is March 11th, 1969, and it's a Tuesday. Anyone born today will have the star sign Pisces. Spring has started to creep in and the days are beginning to get longer.
In America, the song Dizzy by Tommy Roe is on top of the singles charts. Over in the UK, Where Do You Go To by Peter Sarstedt is the number one hit song. Richard Nixon is currently the President of the United States, and the movie Funny Girl is at the top of the Box Office.
In the United Kingdom, Harold Wilson is the current Prime Minister. In fashion, a new "hippie subculture" has emerged, bringing with it laid back Bohemian styles. Frayed bell-bottomed jeans, Jesus sandals, crushed velvet suits and bright tie-dye t-shirts are all popular items of clothing at the moment. It's 1969, so radio stations are playing hit songs from artists such as The Beatles, The Rolling Stones, Zager & Evans, The Archies, The 5th Dimension and Elvis Presley.
If you were to travel back to this day, notable figures such as Dwight D. Eisenhower, Judy Garland, Brian Jones and Sharon Tate would all be still alive. On TV, people are watching popular shows such as "Gunsmoke", "I Dream of Jeannie", "Rowan & Martin's Laugh-In" and "Here's Lucy". Kids and teenagers are watching TV shows such as "Heckle and Jeckle", "Mister Rogers' Neighborhood", "Wacky Races" and "Joe 90".
Popular toys at the moment include the likes of Army men, Operation, Lite-Brite and Battleship (game).
Cars in 1969.
1969 saw the introduction of cars such as the Dodge Challenger, the Ford Capri, the Chevrolet Kingswood, the Volkswagen K70, the Mercury Capri and the Mitsubishi Galant.

Were you born on this date?
If you were born on this date, then it is unlikely that you will remember anything from the year 1969.
This is because humans find it difficult to retrieve memories from their early childhood.
If you are looking for some childhood nostalgia, then you should check out March 11th, 1975 instead.