November 4th, 1969.
November 4th, 1969, was a Tuesday. It was day 308 of 1969. The decade was the 1960s.
51 years, 7 months and 9 days have passed since November 4th, 1969.
The zodiac star sign for this date is Scorpio.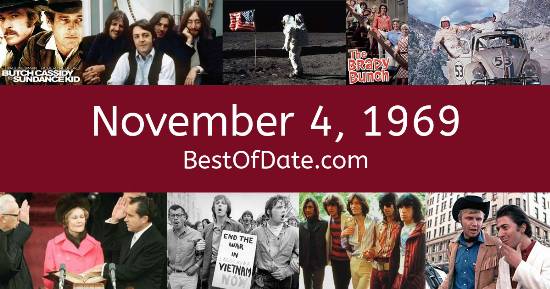 Take me back to November 4th, 1969!
Let's take a stroll down memory lane!
The date is November 4th, 1969 and it's a Tuesday. Anyone born today will have the star sign Scorpio. It's November, so the evenings are getting darker and the days are getting colder.
In America, the song Wedding Bell Blues by The 5th Dimension is on top of the singles charts. Over in the UK, Sugar Sugar by Archies is the number one hit song. Richard Nixon is currently the President of the United States and Harold Wilson is the Prime Minister of the United Kingdom.
In fashion, a new "hippie subculture" has emerged, bringing with it laid back Bohemian styles. Frayed bell-bottomed jeans, Jesus sandals, crushed velvet suits and bright tie-dye t-shirts are all popular items of clothing at the moment. It's 1969, so radio stations are playing hit songs from artists such as The Beatles, The Rolling Stones, Zager & Evans, The Archies, The 5th Dimension and Elvis Presley. On TV, people are watching popular shows such as "The Ed Sullivan Show", "Gilligan's Island", "Dark Shadows" and "Marcus Welby, M.D.".
Kids and teenagers are watching TV shows such as "Heckle and Jeckle", "The King Kong Show", "The Monkees" and "The Banana Splits". Popular toys at the moment include the likes of the Easy-Bake Oven, Motorific (slot car toys), Crissy (doll) and Frisbee.
Personality traits.
Check out our personality summary for people who were born on this date.
What are your strengths and weaknesses?
Were you born on this date?
If you were born on this date, then it is unlikely that you will remember anything from the year 1969.
This is because humans find it difficult to retrieve memories from their early childhood.
If you are looking for some childhood nostalgia, then check out November 4th, 1975 instead.