December 12th, 1969.
December 12th, 1969, was a Friday. It was day 346 of 1969. The decade was the 1960s.
52 years, 5 months and 14 days have passed since December 12th, 1969.
The zodiac star sign for this date is Sagittarius.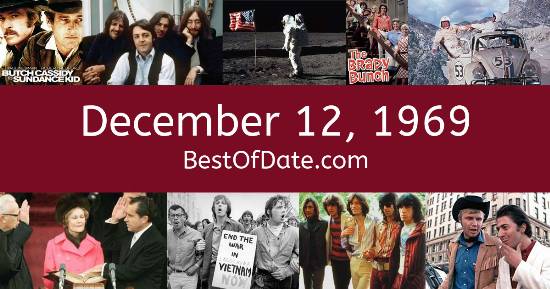 Take me back to December 12th, 1969!
Let's take a stroll down memory lane!
The date is December 12th, 1969 and it's a Friday. Anyone born today will have the star sign Sagittarius. Currently, people have "that Friday feeling" and are looking forward to the weekend.
The Christmas season of 1969 is in full swing. People are putting up their decorations and festive songs are playing on the radio. In America, the song Na Na Hey Hey Kiss Him Goodbye by Steam is on top of the singles charts. Over in the UK, Sugar Sugar by Archies is the number one hit song.
Richard Nixon is currently the President of the United States and the movie Paint Your Wagon is at the top of the Box Office. In the United Kingdom, Harold Wilson is the current Prime Minister. In fashion, a new "hippie subculture" has emerged, bringing with it laid back Bohemian styles. Frayed bell-bottomed jeans, Jesus sandals, crushed velvet suits and bright tie-dye t-shirts are all popular items of clothing at the moment.
It's 1969, so radio stations are playing hit songs from artists such as The Beatles, The Rolling Stones, Zager & Evans, The Archies, The 5th Dimension and Elvis Presley. If you were to travel back to this day, notable figures such as Tammi Terrell, Jimi Hendrix, Janis Joplin and Charles de Gaulle would all be still alive. On TV, people are watching popular shows such as "The Ed Sullivan Show", "I Dream of Jeannie", "Then Came Bronson" and "Medical Center".
Children and teenagers are currently watching television shows such as "The Bugs Bunny Show", "Star Trek: The Original Series", "The Archie Show" and "The Adventures of Gulliver". Popular toys at the moment include the likes of Etch A Sketch, Best of the West (action figures), Battleship (game) and Snoopy Astronaut (figure).
Cars in 1969.
1969 saw the introduction of cars such as the Dodge Challenger, the Ford Capri, the Chevrolet Kingswood, the Volkswagen K70, the Mercury Capri and the Mitsubishi Galant.

Were you born on this date?
If you were born on this date, then it is unlikely that you will remember anything from the year 1969.
This is because humans find it difficult to retrieve memories from their early childhood.
If you are looking for some childhood nostalgia, then check out December 12th, 1975 instead.