March 28th, 1970
March 28th, 1970, was a Saturday. It was Day 87 of 1970. The decade was the Seventies.
53 years, 2 months, and 8 days have passed since March 28th, 1970.
The zodiac star sign for this date is Aries.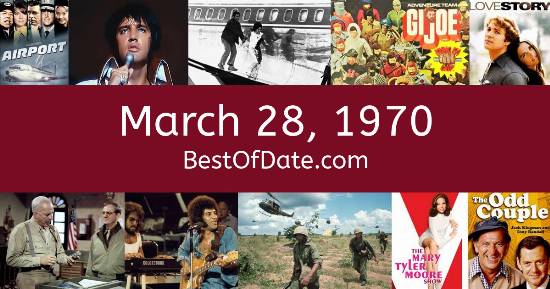 Take me back to March 28th, 1970!
Let's go back in time!
The date is March 28th, 1970, and it's a Saturday. Anyone born today will have the star sign Aries. People are currently enjoying their weekend.
Spring has arrived, and the days are starting to get longer. The song Bridge Over Troubled Water by Simon & Garfunkel is at the top of the singles charts in both the USA and the United Kingdom. Richard Nixon is the President of the United States, and the movie Airport is at the top of the box office.
Harold Wilson is the Prime Minister of the United Kingdom. It's 1970, so radio stations are playing hit songs from artists such as Elvis Presley, Mungo Jerry, Shocking Blue, Diana Ross, Simon & Garfunkel, The Jackson 5 and The Carpenters. In fashion, the hippie look from the 1960s is still popular. Clothing items such as tie dye shirts, bell-bottoms, midi skirts, gauchos and Mexican blouses are being worn by women. Meanwhile, men are wearing dark satin shirts, ethnic-looking tunics, bell bottom jeans, tweed sports jackets and turtlenecks.
If you were to travel back to this day, notable figures such as Jimi Hendrix, Janis Joplin, Charles de Gaulle, and Sonny Liston would all still be alive. On TV, people are watching popular shows such as "What's My Line?", "I Dream of Jeannie", "Room 222", and "The Courtship of Eddie's Father". Kids and teenagers are watching TV shows such as "Captain Kangaroo", "My Three Sons", "Underdog", and "Mister Rogers' Neighborhood".
Popular toys at the moment include Troll doll, Rock 'Em Sock 'Em Robots, Clackers, and Snoopy Astronaut (figure).
Cars in 1970.
1970 saw the introduction of cars such as the Dodge Colt, the Toyota Carina, the Range Rover, the Ford Pinto, the AMC Gremlin and the Chevrolet Vega.

Were you born on this date?
If you were born on this date, then it is unlikely that you will remember anything from the year 1970.
This is because humans find it difficult to retrieve memories of their early childhood.
If you are looking for some childhood nostalgia, then you should check out March 28th, 1976, instead.