May 18th, 1970.
May 18th, 1970, was a Monday. It was day 138 of 1970. The decade was the 1970s.
51 years, 2 months and 6 days have passed since May 18th, 1970.
The zodiac star sign for this date is Taurus.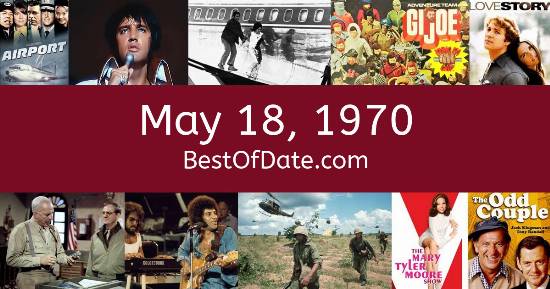 Take me back to May 18th, 1970!
Let's take a stroll down memory lane!
The date is May 18th, 1970 and it's a Monday. Anyone born today will have the star sign Taurus. The summer of 1970 has finally arrived. The weather has warmed up and the evenings are brighter than usual.
In America, the song American Woman by Guess Who is on top of the singles charts. Over in the UK, Back Home by England World Cup Squad is the number one hit song. Richard Nixon is currently the President of the United States and the movie The Liberation of L.B. Jones is at the top of the Box Office.
In the United Kingdom, Harold Wilson is the current Prime Minister. It's 1970, so radio stations are playing hit songs from artists such as Elvis Presley, Mungo Jerry, Shocking Blue, Diana Ross, Simon & Garfunkel, The Jackson 5 and The Carpenters. In fashion, the hippie look from the 1960s is still popular. Clothing items such as tie dye shirts, bell-bottoms, midi skirts, gauchos and Mexican blouses are being worn by women. Meanwhile, men are wearing dark satin shirts, ethnic-looking tunics, bell bottom jeans, tweed sports jackets and turtlenecks.
On TV, people are watching popular shows such as "The Ed Sullivan Show", "Bonanza", "The Courtship of Eddie's Father" and "Marcus Welby, M.D.". Kids and teenagers are watching TV shows such as "The Banana Splits", "Dastardly and Muttley in Their Flying Machines", "The Brady Bunch" and "Sesame Street". If you're a kid or a teenager, then you're probably playing with toys such as Ken (doll), the Easy-Bake Oven, Rock 'Em Sock 'Em Robots and G.I. Joe Adventure Team.
Were you born on this date?
If you were born on this date, then it is unlikely that you will remember anything from the year 1970.
This is because humans find it difficult to retrieve memories from their early childhood.
If you are looking for some childhood nostalgia, then check out May 18th, 1976 instead.