May 4th, 1976.
May 4th, 1976, was a Tuesday. It was day 125 of 1976. The decade was the 1970s.
45 years and 5 days have passed since May 4th, 1976.
The zodiac star sign for this date is Taurus.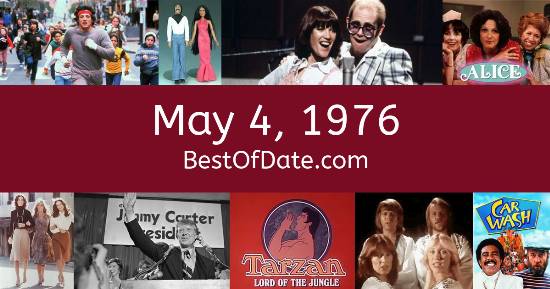 Take me back to May 4th, 1976!
Let's take a stroll down memory lane!
The date is May 4th, 1976 and it's a Tuesday. Anyone born today will have the star sign Taurus. The summer of 1976 has finally arrived. The weather has warmed up and the evenings are brighter than usual.
In America, the song Welcome Back by John Sebastian is on top of the singles charts. Over in the UK, Fernando by ABBA is the number one hit song. Gerald Ford is currently the President of the United States and James Callaghan is the Prime Minister of the United Kingdom.
Because it's 1976, the music charts are being dominated by the likes of ABBA, Queen, Chicago, Elton John, Kiki Dee, Wings and Rod Stewart. In fashion, clothes have become baggier and pants have become less flared. Sports clothing and the "disco look" are both popular at the moment. Women are wearing sundresses, strapless tops with t-shirts, shoulder pads, cardigans, knee-length skirts and daisy dukes. Meanwhile, men are wearing tracksuits, flare jeans, low-top sneakers and untucked collared shirts. On TV, people are watching popular shows such as "Columbo.", "M*A*S*H", "The Jeffersons" and "Wonder Woman".
Meanwhile, gamers are playing titles such as "Tank", "Pursuit" and "Gun Fight". Children and teenagers are currently watching television shows such as "Captain Kangaroo", "Mister Rogers' Neighborhood", "The Pink Panther Show" and "Fat Albert and the Cosby Kids". If you're a kid or a teenager, then you're probably playing with toys such as Etch A Sketch, the Easy-Bake Oven, G.I. Joe Adventure Team and Kenner SSP Racers.