April 29th, 1978
April 29th, 1978, was a Saturday. It was Day 119 of 1978. The decade was the Seventies.
45 years, 4 months, and 22 days have passed since April 29th, 1978.
The zodiac star sign for this date is Taurus.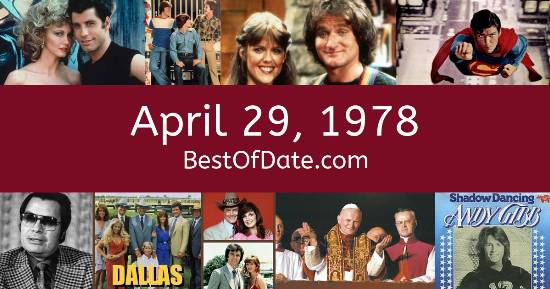 Take me back to April 29th, 1978!
Let's go back in time!
The date is April 29th, 1978, and it's a Saturday. Anyone born today will have the star sign Taurus. People are currently enjoying their weekend.
The summer of 1978 is drawing closer and temperatures have started to rise. The song Night Fever by The Bee Gees is at the top of the singles charts in both the USA and the United Kingdom. Jimmy Carter is the President of the United States, and the movie House Calls is at the top of the box office.
James Callaghan is the Prime Minister of the United Kingdom. On television, people are watching popular shows such as "The Two Ronnies", "Laverne & Shirley", "Chips", and "Dallas". In fashion, clothes have become baggier and pants have become less flared. Sports clothing and the "disco look" are both popular at the moment. Women are wearing sundresses, strapless tops with t-shirts, shoulder pads, cardigans, knee-length skirts and daisy dukes. Meanwhile, men are wearing tracksuits, flare jeans, low-top sneakers and untucked collared shirts.
Because it's 1978, the music charts are being dominated by the likes of the Bee Gees, John Travolta & Olivia Newton-John, the Village People, Boney M and Andy Gibb. If you were to travel back to this day, notable figures such as Keith Moon, Sid Vicious, and John Wayne would all still be alive. People are playing video games such as "Pursuit", "Gun Fight", and "Breakout".
Children and teenagers are watching television shows such as "Captain Kangaroo", "Sesame Street", "All in the Family", and "Fat Albert and the Cosby Kids". Children are playing with toys such as Stretch Armstrong, Lego Technic, Mattel Electronic Football (handheld game), and Water Ring Toss.
Cars in 1978.
1978 saw the introduction of cars such as the Chrysler Horizon, the Saab 900, the Mitsubishi Mirage, the Ford Fairmont, the Toyota Supra and the AMC Concord.

Were you born on this date?
If you were born on this date, then it is unlikely that you will remember anything from the year 1978.
This is because humans find it difficult to retrieve memories of their early childhood.
If you are looking for some childhood nostalgia, then you should check out April 29th, 1984, instead.