December 19th, 1981.
December 19th, 1981, was a Saturday. It was day 353 of 1981. The decade was the 1980s.
39 years, 4 months and 20 days have passed since December 19th, 1981.
The zodiac star sign for this date is Sagittarius.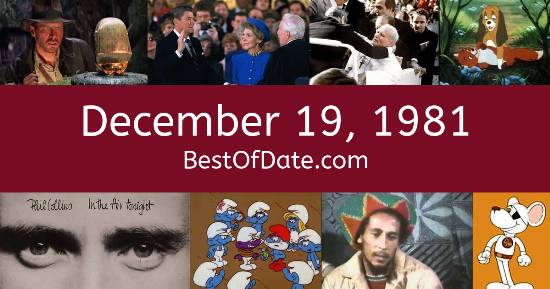 Take me back to December 19th, 1981!
Let's take a stroll down memory lane!
The date is December 19th, 1981 and it's a Saturday. Anyone born today will have the star sign Sagittarius. Currently, people are enjoying their weekend.
The Christmas season of 1981 is in full swing. The decorations are up and festive songs are playing on the radio. In America, the song Physical by Olivia Newton-John is on top of the singles charts. Over in the UK, Don't You Want Me by Human League is the number one hit song.
Ronald Reagan is currently the President of the United States and Margaret Thatcher is the Prime Minister of the United Kingdom. In fashion, women are currently wearing jelly shoes, turtleneck sweaters, loose high-waist pants, crop tops and puffer jackets lined with fur. Meanwhile, men have been ditching the disco look of the 70s in favor of athletic clothing such as tracksuits and sports jerseys. The "preppy" look has also been making a comeback. Because it's 1981, the radio stations are being dominated by artists such as Kim Carnes, Soft Cell, Phil Collins, John Lennon, Stars On 45, Diana Ross and Olivia Newton-John.
On TV, people are watching popular shows such as "Quincy, M.E.", "The Dukes of Hazzard", "Spider-Man and His Amazing Friends" and "The Smurfs". Meanwhile, gamers are playing titles such as "Space Invaders", "Lunar Lander", "Asteroids" and "Pac-Man". Kids and teenagers are watching TV shows such as "Mister Rogers' Neighborhood", "Diff'rent Strokes", "Thundarr the Barbarian" and "The Smurfs".
Popular toys at the moment include the likes of the Easy-Bake Oven, Cabbage Patch Kids, Big wheel (tricycle) and Monchhichi / Chicaboo.