August 20th, 2004.
August 20th, 2004, was a Friday. It was day 233 of 2004. The decade was the 2000s.
16 years, 8 months and 20 days have passed since August 20th, 2004.
The zodiac star sign for this date is Leo.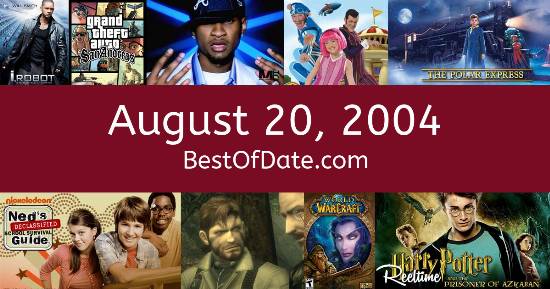 Take me back to August 20th, 2004!
Let's take a stroll down memory lane!
The date is August 20th, 2004 and it's a Friday. Anyone born today will have the star sign Leo. Currently, people have "that Friday feeling" and are looking forward to the weekend.
The summer of 2004 is coming to an end and fall is just around the corner. In America, the song Lean Back by Terror Squad is on top of the singles charts. Over in the UK, Baby Cakes by 3 of a Kind is the number one hit song.
George W. Bush Jnr. is currently the President of the United States and the movie Exorcist: The Beginning is at the top of the Box Office. In the United Kingdom, Tony Blair is the current Prime Minister. A popular software program called LimeWire is being used by many people to share MP3 files (and viruses).
Internet users are using MSN Messenger to chat with each other online. It's 2004, so the music charts are being dominated by the likes of Usher, Alicia Keys, Maroon 5, OutKast, Mario Winans, the Terror Squad and Ciara. On TV, people are watching popular shows such as "Stargate SG-1", "Grounded for Life", "The O.C." and "Deadwood".
Meanwhile, gamers are playing titles such as "The Simpsons Hit & Run", "True Crime: Streets of LA", "Need for Speed: Underground" and "Manhunt". Children and teenagers are currently watching television shows such as "That '70s Show", "My Wife and Kids", "The Fairly OddParents" and "Drake & Josh". Popular toys at the moment include the likes of the PlayStation 2, Bratz (dolls), Beyblades (spinning top toys) and RoboSapien (toy robot).