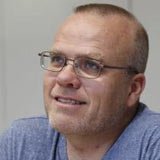 Which generation does Rasmus Lerdorf belong to?
Rasmus Lerdorf belongs to the Generation X demographic cohort.
"So he isn't a boomer?!"
Rasmus Lerdorf is not a boomer. The boomer generation ended in 1964, whereas he was born 4 years later in 1968. This means that he is a part of Generation X.
What is he known for?
He created the programming language PHP.
What age will he be in 2023?
He turned 55 in November of 2023.
When will Rasmus Lerdorf turn 60?
He will turn 60 years old on November 22, 2028. That's roughly 4 years and 11 months from now.
When is Rasmus Lerdorf's next birthday?
His next birthday will be on November 22, 2024. On that date, he will turn 56.
What day of the week was he born on?
He was born on a Friday.
Other people who were born around November 22, 1968
Celebrities and other notable figures who are roughly the same age as Rasmus Lerdorf.
---
Other Content & Useful Links
---
© 2014-2023 BestOfDate.com