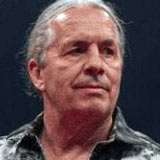 How tall is he?
Bret Hart is about 6 foot tall. That is 183 in cm or 1.83 in meters.
This means that he is noticeably taller than the average American male.
However, because he is a professional wrestler, it means that he will be facing off against men who are much larger than the average man. Therefore, he might not seem as tall when you see him on television.
See also: Celebrities who are 6 foot.
What age will he be in 2023?
He turned 66 in July of 2023.
When will Bret Hart turn 70?
He will turn 70 years old on July 2, 2027. That's roughly 3 years and 6 months from now.
When is Bret Hart's next birthday?
His next birthday will be on July 2, 2024. On that date, he will turn 67.
What day of the week was he born on?
He was born on a Tuesday.
Other people who were born around July 2, 1957
Celebrities and other notable figures who are roughly the same age as Bret Hart.

Faithless singer Deceased
Born on June 14, 1957
Star Sign: Gemini


Actress
Born on June 23, 1957
Star Sign: Cancer

People who are taller than him
Celebrities and other figures who are slightly taller than him.

Actor
Born on September 21, 1950
Height: 1.87m / 6 ft 2 inches


Internet personality
Born on September 12, 1994
Height: 1.88m / 6 ft 2 inches


British Prime Minister
Born on October 9, 1966
Height: 1.85m / 6 ft 1 inches

People who are shorter than him
Celebrities and other figures who are slightly shorter than him.

Actor
Born on January 13, 1977
Height: 1.80m / 5 ft 11 inches


American whistleblower
Born on June 21, 1983
Height: 1.80m / 5 ft 11 inches


Pope Deceased
Born on May 18, 1920
Height: 1.78m / 5 ft 10 inches

---
Other Content & Useful Links
---
© 2014-2023 BestOfDate.com