November 28th, 1962.
November 28th, 1962, was a Wednesday. It was day 332 of 1962. The decade was the Swinging Sixties.
59 years, 10 months and 8 days have passed since November 28th, 1962.
The zodiac star sign for this date is Sagittarius.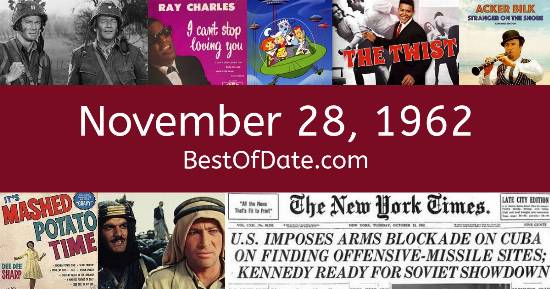 Take me back to November 28th, 1962!
Let's go back in time!
The date is November 28th, 1962, and it's a Wednesday. Anyone born today will have the star sign Sagittarius. It's November, so the evenings are getting darker and the days are getting colder.
In America, the song Big Girls Don't Cry by The Four Seasons is on top of the singles charts. Over in the UK, Lovesick Blues by Frank Ifield is the number one hit song. John Fitzgerald Kennedy is currently the President of the United States, and the movie The Wonderful World of the Brothers Grimm is at the top of the Box Office.
In the United Kingdom, Harold Macmillan is the current Prime Minister. In fashion, many of the trends from the late 1950s are still popular. Women are wearing tailored skirts, short boxy jackets and shift dresses. Trousers are also becoming popular amongst women. Meanwhile, men are wearing polo shirts, argyle socks, sweater vests, loafers and harrington jackets. Because it's 1962, radio stations are playing hit songs from music artists such as Ray Charles, The Four Seasons, Elvis Presley, Chubby Checker, Bobby Vinton and Shelley Fabares.
If you were to travel back to this day, notable figures such as Robert Frost, Ernie Davis and John F. Kennedy would all be still alive. On TV, people are watching popular shows such as "Perry Mason", "The Twilight Zone", "The Untouchables" and "Danger Man". Kids and teenagers are watching TV shows such as "Mighty Mouse Playhouse", "The Adventures of Rocky and Bullwinkle and Friends", "Courageous Cat and Minute Mouse" and "My Three Sons".
If you're a kid or a teenager, then you're probably playing with toys such as Metal House robots, Fisher Price Little People, Ken (doll) and Chatter Telephone.
Cars in 1962.
1962 saw the introduction of cars such as the Buick Wildcat, the Ford Cortina, the Mitsubishi Colt, the Pontiac LeMans, the Dodge Custom 880 and the Plymouth Fury (3rd generation).

Were you born on this date?
If you were born on this date, then it is unlikely that you will remember anything from the year 1962.
This is because humans find it difficult to retrieve memories from their early childhood.
If you are looking for some childhood nostalgia, then you should check out November 28th, 1968 instead.