May 4th, 2003.
May 4th, 2003, was a Sunday. It was day 124 of 2003. The decade was the 2000s.
18 years and 5 days have passed since May 4th, 2003.
The zodiac star sign for this date is Taurus.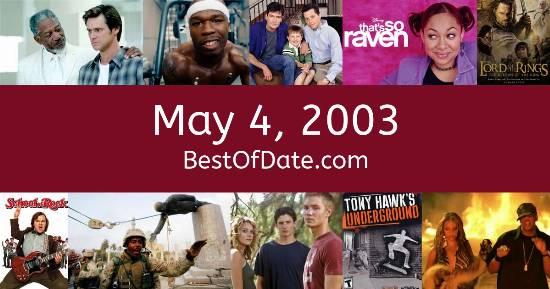 Take me back to May 4th, 2003!
Let's take a stroll down memory lane!
The date is May 4th, 2003 and it's a Sunday. Anyone born today will have the star sign Taurus. Currently, people are enjoying their weekend.
The summer of 2003 has finally arrived. The weather has warmed up and the evenings are brighter than usual. In America, the song In Da Club by 50 Cent is on top of the singles charts. Over in the UK, You Said No by Busted is the number one hit song.
George W. Bush Jnr. is currently the President of the United States and the movie Identity is at the top of the Box Office. In the United Kingdom, Tony Blair is the current Prime Minister. A popular software program called LimeWire is being used by many people to share MP3 files (and viruses).
It's 2003, so the music charts are being dominated by the likes of 50 Cent, R. Kelly, Sean Paul, 3 Doors Down, Nelly, Evanescence, Chingy and Beyonce. On TV, people are watching popular shows such as "Rugrats", "The Powerpuff Girls", "Angel" and "24". Meanwhile, gamers are playing titles such as "Battlefield 1942", "Mafia: The City of Lost Heaven", "Animal Crossing" and "Grand Theft Auto: Vice City".
Kids and teenagers are watching TV shows such as "The Wild Thornberrys", "Rocket Power", "Grounded for Life" and "The Fairly OddParents". Popular toys at the moment include the likes of the PlayStation 2, Bratz (dolls), Yu-Gi-Oh! Trading Card Game and Beyblades (spinning top toys).