October 12th, 1966.
October 12th, 1966, was a Wednesday. It was day 285 of 1966. The decade was the 1960s.
54 years, 6 months and 28 days have passed since October 12th, 1966.
The zodiac star sign for this date is Libra.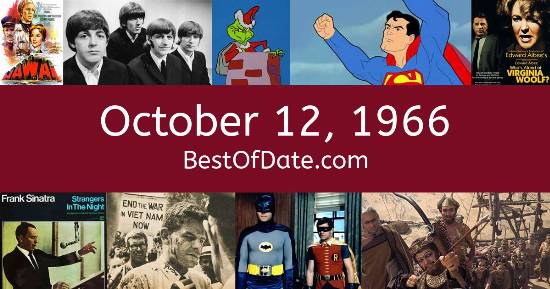 Take me back to October 12th, 1966!
Let's take a stroll down memory lane!
The date is October 12th, 1966 and it's a Wednesday. Anyone born today will have the star sign Libra. The summer is long gone. Temperatures have started to become much cooler and the evenings are beginning to get darker.
Fallen leaves have carpeted driveways, lawns, pathways and sidewalks and there's a fresh earthy scent in the ear. In America, the song Cherish by Assocation is on top of the singles charts. Over in the UK, Distant Drums by Jim Reeves is the number one hit song.
Lyndon Baines Johnson is currently the President of the United States and Harold Wilson is the Prime Minister of the United Kingdom. Because it is 1966, radio stations are playing hit songs from music artists such as Frank Sinatra, The Beatles, The Beach Boys, SSgt Barry Sadler, The Association and The Supremes. In fashion, a new "hippie subculture" has emerged, bringing with it laid back Bohemian styles. Frayed bell-bottomed jeans, Jesus sandals, crushed velvet suits and bright tie-dye t-shirts are all popular items of clothing at the moment.
American rock band The Beach Boys have just released their new single "Good Vibrations". A film called "Hawaii", starring Julie Andrews, is currently being shown in movie theaters. On TV, people are watching popular shows such as "Bonanza", "The Andy Griffith Show", "Gilligan's Island" and "Batman".
Children and teenagers are currently watching television shows such as "The Gumby Show", "My Three Sons", "JOT the Dot" and "Cool McCool". Popular toys at the moment include the likes of Ken (doll), Mouse Trap, G.I. Joe: America's Movable Fighting Man and Major Matt Mason (action figure).