March 27th, 1971.
March 27th, 1971, was a Saturday. It was day 86 of 1971. The decade was the 1970s.
50 years, 1 months and 23 days have passed since March 27th, 1971.
The zodiac star sign for this date is Aries.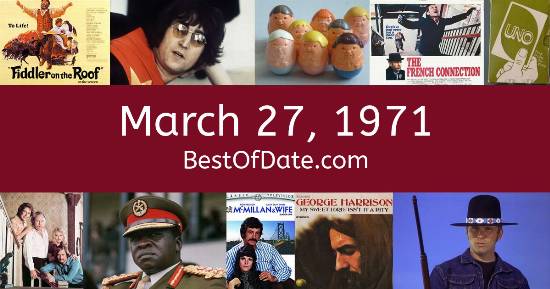 Take me back to March 27th, 1971!
Let's take a stroll down memory lane!
The date is March 27th, 1971 and it's a Saturday. Anyone born today will have the star sign Aries. Currently, people are enjoying their weekend.
Spring has arrived and the days have become longer. In America, the song Me And Bobby McGee by Janis Joplin is on top of the singles charts. Over in the UK, Hot Love by T. Rex is the number one hit song.
Richard Nixon is currently the President of the United States and Edward Heath is the Prime Minister of the United Kingdom. In fashion, the hippie look from the 1960s is still popular. Clothing items such as tie dye shirts, bell-bottoms, midi skirts, gauchos and Mexican blouses are being worn by women. Meanwhile, men are wearing dark satin shirts, ethnic-looking tunics, bell bottom jeans, tweed sports jackets and turtlenecks. It's 1971, so radio stations are playing songs from artists such as George Harrison, John Lennon, Rod Stewart, Lynn Anderson, The Rolling Stones, Three Dog Night, Carole King and The Osmonds.
On TV, people are watching popular shows such as "What's My Line?", "Rowan & Martin's Laugh-In", "The Brady Bunch" and "The Mary Tyler Moore Show". Kids and teenagers are watching TV shows such as "Lassie", "Underdog", "The Pink Panther Show" and "The Brady Bunch". Popular toys at the moment include the likes of Motorific (slot car toys), Suzy Homemaker, Battleship (game) and Crissy (doll).