January 29th, 1974.
January 29th, 1974, was a Tuesday. It was day 29 of 1974. The decade was the 1970s.
47 years, 3 months and 11 days have passed since January 29th, 1974.
The zodiac star sign for this date is Aquarius.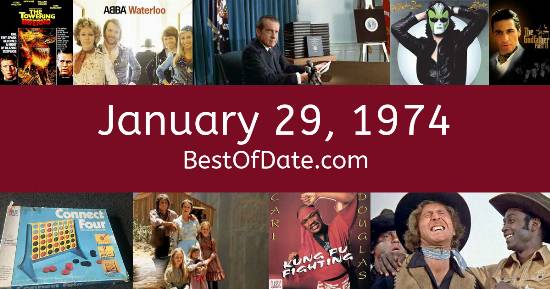 Take me back to January 29th, 1974!
Let's take a stroll down memory lane!
The date is January 29th, 1974 and it's a Tuesday. Anyone born today will have the star sign Aquarius. In America, the song The Way We Were by Barbra Sreisand is on top of the singles charts.
Over in the UK, Tiger Feet by Mud is the number one hit song. Richard Nixon is currently the President of the United States and Edward Heath is the Prime Minister of the United Kingdom. Because it's 1974, the music charts are being dominated by the likes of Carl Douglas, ABBA, Mud, the Steve Miller Band, George McCrae and Terry Jacks.
In fashion, the hippie look from the 1960s and early 1970s has disappeared. The disco look is beginning to take off. Women are wearing t-shirts, khaki pants, mood rings, kimonos and flare jumpsuits. Meanwhile, men are wearing velvet sports coats, slogan t-shirts, flannel, frilly shirts, jeans and khaki chinos. On TV, people are watching popular shows such as "Columbo.", "The Odd Couple", "McMillan & Wife" and "Upstairs, Downstairs". Meanwhile, gamers are playing titles such as "Pong", "Space Race" and "Gotcha".
Kids and teenagers are watching TV shows such as "Captain Kangaroo", "JOT the Dot", "The Adventures of Black Beauty" and "Happy Days". If you're a kid or a teenager, then you're probably playing with toys such as the Easy-Bake Oven, Nerf Balls, VertiBird (toy helicopter) and Uno (card game).