February 24th, 1988.
February 24th, 1988, was a Wednesday. It was day 55 of 1988. The decade was the 1980s.
33 years, 2 months and 10 days have passed since February 24th, 1988.
The zodiac star sign for this date is Pisces.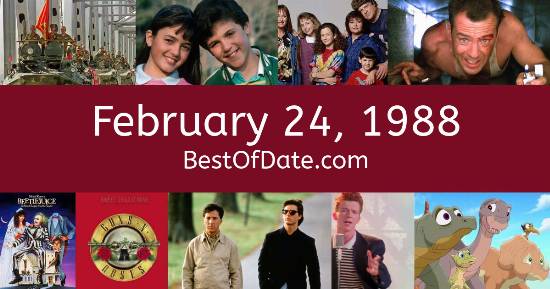 Take me back to February 24th, 1988!
Let's take a stroll down memory lane!
The date is February 24th, 1988 and it's a Wednesday. Anyone born today will have the star sign Pisces. In America, the song Seasons Change by Expose is on top of the singles charts.
Over in the UK, I Should Be So Lucky by Kylie Minogue is the number one hit song. Ronald Reagan is currently the President of the United States and the movie Three Men and a Baby is at the top of the Box Office. In the United Kingdom, Margaret Thatcher is the current Prime Minister.
In fashion, women are currently wearing sweater dresses, short skirts, small shoulder pads, animal print, long full wool coats and bulky sweaters. Meanwhile, men are wearing tracksuits, sweatshirts, Nike Air Jordan shoes and denim. It's 1988, so the airwaves are being dominated by music artists such as Phil Collins, Bobby McFerrin, the Pet Shop Boys, Belinda Carlisle and Rick Astley. On TV, people are watching popular shows such as "Columbo.", "'Allo 'Allo!", "Punky Brewster" and "The Golden Girls".
Meanwhile, gamers are playing titles such as "Missile Command", "Ultima IV: Quest of the Avatar", "Street Fighter" and "Maniac Mansion ". Children and teenagers are currently watching television shows such as "Heathcliff", "The Cosby Show", "The Care Bears" and "Jem and the Holograms". If you're a kid or a teenager, then you're probably playing with toys such as Dungeons & Dragons, the Commodore 64, Pogo ball / Lolo ball and Micro Machines.