July 29th, 2000.
July 29th, 2000, was a Saturday. It was day 211 of 2000. The decade was the 2000s.
20 years, 9 months and 9 days have passed since July 29th, 2000.
The zodiac star sign for this date is Leo.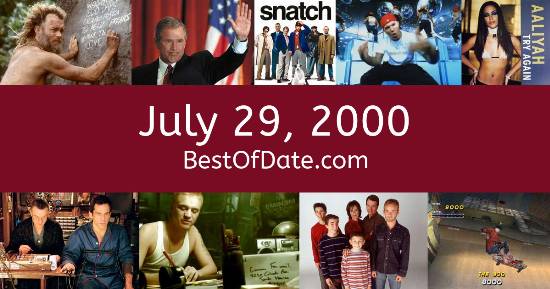 Take me back to July 29th, 2000!
Let's take a stroll down memory lane!
The date is July 29th, 2000 and it's a Saturday. Anyone born today will have the star sign Leo. Currently, people are enjoying their weekend.
It's summer, so the temperatures are warmer and the evenings are longer than usual. In America, the song Bent by Matchbox Twenty is on top of the singles charts. Over in the UK, Life Is A Rollercoaster by Ronan Keating is the number one hit song.
Bill Clinton is currently the President of the United States and the movie The Klumps is at the top of the Box Office. In the United Kingdom, Tony Blair is the current Prime Minister. The Nokia 3210 is currently one of the most popular cell phones on the market.
It's the year 2000, so the music charts are being dominated by the likes of Christina Aguilera, Faith Hill, Savage Garden, Destiny's Child, Santana, Sisqó, Creed, Aaliyah and Enrique Iglesias. Brad Pitt and Jennifer Aniston have just been married in a lavish Malibu wedding. On TV, people are watching popular shows such as "Stargate SG-1", "The Wild Thornberrys", "The Powerpuff Girls" and "Angel".
Meanwhile, gamers are playing titles such as "Pokémon Red and Blue", "Ape Escape", "Tony Hawk's Pro Skater" and "Resident Evil 3: Nemesis". Kids and teenagers are watching TV shows such as "Dawson's Creek", "Rocket Power", "Roswell" and "Malcolm in the Middle". Popular toys at the moment include the likes of Groovy Girls, the Game Boy Color, Poo-Chi (robot dog) and Razor (scooter).