March 14th, 2020.
March 14th, 2020, was a Saturday. It was day 74 of 2020. The decade was the 2020s.
1 years, 8 months and 24 days have passed since March 14th, 2020.
The zodiac star sign for this date is Pisces.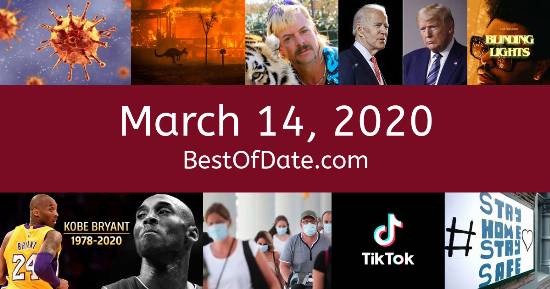 Top movie at the Box Office.
The movie "Onward" was at the top of the box office on March 14th, 2020.
During this period, many movie theaters were closed due to the COVID-19 pandemic. As a result, a lot of new movies were postponed and box office reporting was negatively affected. Furthermore, older classics were re-released.
Take me back to March 14th, 2020!
Let's take a stroll down memory lane!
The date is March 14th, 2020 and it's a Saturday. Anyone born today will have the star sign Pisces. Currently, people are enjoying their weekend.
Spring has started to creep in and the days are beginning to get longer. St. Patrick's Day is just around the corner. In America, the song The Box by Roddy Ricch is on top of the singles charts.
Over in the UK, Blinding Lights by The Weeknd is the number one hit song. Donald Trump is currently the President of the United States and the movie Onward is at the top of the Box Office. In the United Kingdom, Boris Johnson is the current Prime Minister.
A new respiratory virus called Covid-19 is starting to become a reality for many people in the western world. Countries are going into lockdown and closing their borders. Sports and other events are also being cancelled. In America, several states have issued stay-at-home orders. If you were to travel back to this day, notable figures such as Kenny Rogers, Little Richard, Naya Rivera and Herman Cain would all be still alive. On TV, people are watching popular shows such as "Grey's Anatomy", "Modern Family", "Homeland" and "The Witcher".
Meanwhile, gamers are playing titles such as "Call of Duty: Modern Warfare", "Death Stranding" and "Pokémon Sword and Shield". Children and teenagers are currently watching television shows such as "Horrid Henry", "Agents of S.H.I.E.L.D." and "The Loud House". Popular toys at the moment include the likes of the PlayStation 4 and the Xbox One.
Personality traits.
Check out our personality summary for people who were born on this date.
What are your strengths and weaknesses?