September 12, 2022
September 12, 2022, was a Monday. It was the 255th day of 2022. The decade was the 2020s.
1 years, 2 months, and 29 days have passed since September 12, 2022.
The zodiac star sign for this date is Virgo.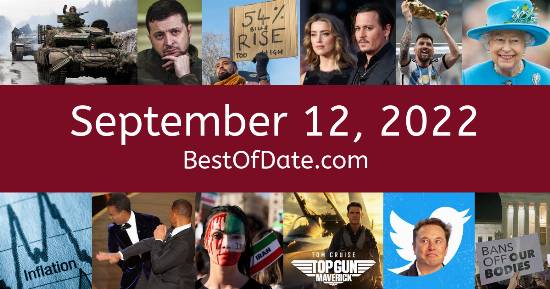 Facts
This date was 455 days ago. Approximately 15 months have passed. It was the 255th day of 2022, in week 37. The decade was the 2020s. A baby that was born on this day is now one year old. We have gone through approximately 5 seasons of weather since this date.
Take me back to September 12, 2022
Ready for a walk down memory lane?
It is Monday, September 12, 2022. Anyone born today will have the star sign Virgo. The weekend has just passed, so some people are feeling a bit down. Others are tired after partying too much.
Schools and colleges are starting again, and fall has officially arrived. As a result, temperatures are beginning to cool, and trees are starting to shed their leaves. In the United States, Labor Day of 2022 has recently come and passed. To many, this means that the summer is officially over. In America, the song "As It Was" by Harry Styles is at the top of the singles charts, while "B.O.T.A. (Baddest of Them All)" by Eliza Rose and Interplanetary Criminal is the number-one song in the UK.
Joe Biden is the President of the United States, and the movie Barbarian is at the top of the box office. Liz Truss is the Prime Minister of the United Kingdom. If you were to travel back to this day, notable figures such as Coolio, Sara Lee, Angela Lansbury, and Leslie Jordan would all still be alive.
On TV, people are watching popular shows such as "Grey's Anatomy" and "The Walking Dead". Popular toys at the moment include the Xbox Series X and the PlayStation 5.
Personality traits
Check out our personality summary for people who were born on September 12, 2022.
What are your strengths and weaknesses?
How old was I?
Enter your date of birth below to find out how old you were on September 12, 2022.
This information is not transmitted to our server.