September 21st, 1950.
September 21st, 1950, was a Thursday. It was day 264 of 1950. The decade was the 1950s.
71 years, 7 months and 28 days have passed since September 21st, 1950.
The zodiac star sign for this date is Virgo.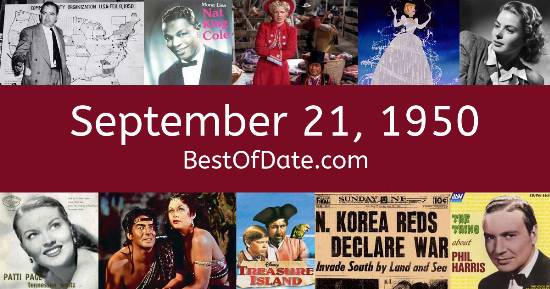 Take me back to September 21st, 1950!
Let's take a stroll down memory lane!
The date is September 21st, 1950 and it's a Thursday. Anyone born today will have the star sign Virgo. Schools and colleges are starting again and Autumn has officially arrived. As a result, temperatures are beginning to cool and trees are starting to shed their leaves.
The earthy smells of fall have started to fill the air. In music, the song "Goodnight Irene" by Gordon Jenkins is the best-selling record at the moment. Harry S. Truman is currently the President of the United States and Clement Attlee is the Prime Minister of the United Kingdom.
In fashion, women are sporting the popular "The New Look" by Christian Dior. This formal style includes rounded shoulders, a full-skirted silhouette and a tight waist. Meanwhile, men are beginning to follow a new "Teddy Boy" trend that involves greased-back hair, extremely narrow trousers and velvet-collared jackets. It's 1950, so radio stations and jukeboxes are playing songs from artists such as Nat King Cole, Gordon Jenkins & The Weavers, Anton Karas, Gary & Bing Crosby, Teresa Brewer, Guy Lombardo and Red Foley. In Asia, the Korean War is raging on between South Korea and North Korea.
On TV, people are watching popular shows such as "The Ed Sullivan Show", "The Lone Ranger", "The Gene Autry Show" and "The Cisco Kid". Children and teenagers are currently watching television shows such as "Looney Tunes", "Jim and Judy in Teleland", "Crusader Rabbit" and "The Adventures of Paddy the Pelican". If you're a kid or a teenager, then you're probably playing with toys such as Foto-Electric Baseball, Toy Guns, Spinning Tops and Tiny Tears (doll).
Cars in 1950.
1950 saw the introduction of cars such as the Nash Rambler, the Henry J, the Alfa Romeo 1900, the Fiat 1400, the Lloyd 300 and the Renault Colorale.

Were you born on this date?
If you were born on this date, then it is unlikely that you will remember anything from the year 1950.
This is because humans find it difficult to retrieve memories from their early childhood.
If you are looking for some childhood nostalgia, then check out September 21st, 1956 instead.