September 13th, 1962.
September 13th, 1962, was a Thursday. It was day 256 of 1962. The decade was the 1960s.
58 years, 9 months and 0 days have passed since September 13th, 1962.
The zodiac star sign for this date is Virgo.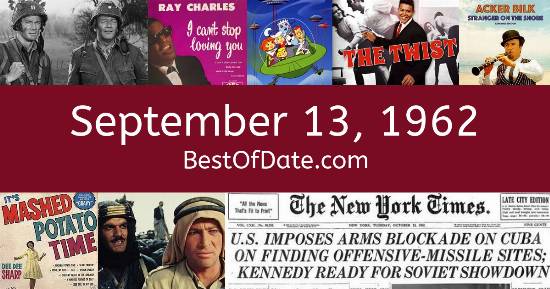 Take me back to September 13th, 1962!
Let's take a stroll down memory lane!
The date is September 13th, 1962 and it's a Thursday. Anyone born today will have the star sign Virgo. Schools have started back and autumn has arrived, so temperatures have started to cool and trees are beginning to shed their leaves.
In America, the song Sherry by The Four Seasons is on top of the singles charts. Over in the UK, She's Not You by Elvis Presley is the number one hit song. John Fitzgerald Kennedy is currently the President of the United States and Harold Macmillan is the Prime Minister of the United Kingdom.
In fashion, many of the trends from the late 1950s are still popular. Women are wearing tailored skirts, short boxy jackets and shift dresses. Trousers are also becoming popular amongst women. Meanwhile, men are wearing polo shirts, argyle socks, sweater vests, loafers and harrington jackets. Because it's 1962, radio stations are playing hit songs from music artists such as Ray Charles, The Four Seasons, Elvis Presley, Chubby Checker, Bobby Vinton and Shelley Fabares. On TV, people are watching popular shows such as "The Jack Benny Program", "The Danny Thomas Show", "Bonanza" and "Route 66".
Children and teenagers are currently watching television shows such as "Looney Tunes", "The Many Loves of Dobie Gillis", "My Three Sons" and "The Dick Tracy Show". If you're a kid or a teenager, then you're probably playing with toys such as Crater Critters, Troll doll, Astrobase and Tammy (doll).
Were you born on this date?
If you were born on this date, then it is unlikely that you will remember anything from the year 1962.
This is because humans find it difficult to retrieve memories from their early childhood.
If you are looking for some childhood nostalgia, then check out September 13th, 1968 instead.