January 1st, 1966.
January 1st, 1966, was a Saturday. It was day 1 of 1966. The decade was the 1960s.
55 years, 4 months and 7 days have passed since January 1st, 1966.
The zodiac star sign for this date is Capricorn.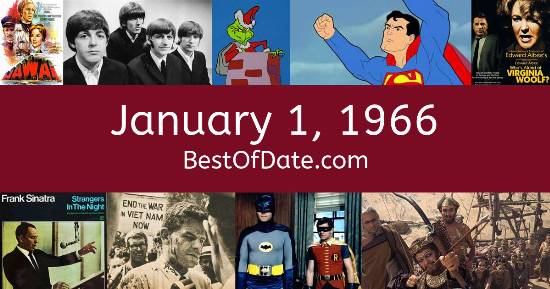 Take me back to January 1st, 1966!
Let's take a stroll down memory lane!
The date is January 1st, 1966 and it's a Saturday. Anyone born today will have the star sign Capricorn. Currently, people are enjoying their weekend.
It's New Years Day, the official start of the year 1966. A lot of people are relaxing at home. Others are nursing hangovers from the night before. In America, the song Over And Over by Dave Clark Five is on top of the singles charts. Over in the UK, We Can Work It Out / Day Tripper by The Beatles is the number one hit song.
Lyndon Baines Johnson is currently the President of the United States and Harold Wilson is the Prime Minister of the United Kingdom. The films "Doctor Zhivago" and "Thunderball" are currently being shown in movie theaters. Because it is 1966, radio stations are playing hit songs from music artists such as Frank Sinatra, The Beatles, The Beach Boys, SSgt Barry Sadler, The Association and The Supremes.
In fashion, a new "hippie subculture" has emerged, bringing with it laid back Bohemian styles. Frayed bell-bottomed jeans, Jesus sandals, crushed velvet suits and bright tie-dye t-shirts are all popular items of clothing at the moment. On TV, people are watching popular shows such as "The Ed Sullivan Show", "What's My Line?", "Gunsmoke" and "The Andy Griffith Show". Children and teenagers are currently watching television shows such as "Looney Tunes", "Heckle and Jeckle", "Ricochet Rabbit & Droop-a-Long" and "JOT the Dot".
Popular toys at the moment include the likes of Ken (doll), Tammy (doll), Army men and Motorific (slot car toys).