June 6, 1967
June 6, 1967, was a Tuesday. It was the 157th day of 1967. The decade was the swinging sixties.
56 years, 6 months, and 4 days have passed since June 6, 1967.
The zodiac star sign for this date is Gemini.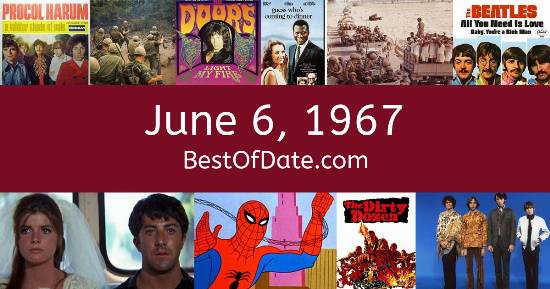 Facts
This date was 20,641 days ago. Approximately 688 months have passed. It was the 157th day of 1967, in week 23. The decade was the swinging sixties. People born on this day are currently 56 years old and belong to the Generation X generation. The Earth has experienced 229 seasons of weather since then.
Take me back to June 6, 1967
Let's take a stroll down memory lane.
It is Tuesday, June 6, 1967. Anyone born today will have the star sign Gemini. The summer of 1967 is in full swing. The weather is warm, and the evenings are brighter than usual. Most schools and colleges are now finished until August or September.
In America, the song "Respect" by Aretha Franklin is at the top of the singles charts, while "A Whiter Shade Of Pale" by Procol Harum is the number-one song in the UK. Lyndon Baines Johnson is the President of the United States, and the movie Casino Royale is at the top of the box office. Harold Wilson is the Prime Minister of the United Kingdom.
In fashion, a new "hippie subculture" has emerged, bringing with it laid-back Bohemian styles. Frayed bell-bottom jeans, Jesus sandals, crushed velvet suits, and bright tie-dye t-shirts are all popular items of clothing at the moment. It's 1967, so radio stations are playing hit songs from artists such as Procol Harum, The Monkees, The Beatles, The Doors, Lulu and The Association. If you were to travel back to this day, notable figures such as Jayne Mansfield, Che Guevara, Otis Redding, and Martin Luther King would all still be alive.
On TV, people are watching popular shows such as "The Ed Sullivan Show", "What's My Line?", "Steptoe and Son", and "I Dream of Jeannie". Kids and teenagers are watching TV shows such as "Mighty Mouse Playhouse", "The Gumby Show", "JOT the Dot", and "The New Adventures of Superman". Popular toys at the moment include Tonka trucks, Major Matt Mason (action figure), Suzy Homemaker, and Battleship (game).
Cars in 1967
1968 saw the introduction of cars such as the AMC Rebel, the Chevrolet Camaro, the Ford Thunderbird (fifth generation), the Pontiac Firebird, the Citroën Dyane, and the Toyota HiAce.

Were you born on June 6, 1967?
If you were born on this date, then it is unlikely that you will remember anything from the year 1967.
This is because humans find it difficult to retrieve memories of their early childhood.
If you are looking for some childhood nostalgia, then you should check out June 6, 1973, instead.