December 28th, 1983
December 28th, 1983, was a Wednesday. It was Day 362 of 1983. The decade was the Eighties.
39 years, 4 months, and 30 days have passed since December 28th, 1983.
The zodiac star sign for this date is Capricorn.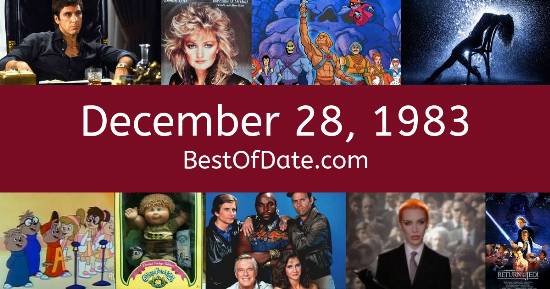 Take me back to December 28th, 1983!
Let's go back in time!
The date is December 28th, 1983, and it's a Wednesday. Anyone born today will have the star sign Capricorn. Christmas Day of 1983 has just passed and many people are relaxing at home and enjoying the holiday season.
In America, the song Say Say Say by Paul McCartney & Michael Jackson is at the top of the singles charts. Over in the UK, Only You by Flying Pickets is the number-one hit song. Ronald Reagan is the President of the United States, and the movie Sudden Impact is at the top of the box office.
Margaret Thatcher is the Prime Minister of the United Kingdom. In fashion, women are wearing jelly shoes, turtleneck sweaters, loose high-waist pants, crop tops, and puffer jackets lined with fur. Meanwhile, men have been ditching the disco look of the 1970s in favor of athletic clothing such as tracksuits and sports jerseys. The "preppy" look has also been making a comeback. Because it's 1983, the radio stations are being dominated by artists such as Culture Club, Michael Jackson, Irene Cara, David Bowie and The Police.
If you were to travel back to this day, notable figures such as Marvin Gaye and Truman Capote would be still alive. On TV, people are watching popular shows such as "Columbo", "The Two Ronnies", "Last of the Summer Wine", and "Family Ties". Meanwhile, gamers are playing titles such as "Asteroids", "Pac-Man", "Missile Command", and "Mario Bros.".
Children and teenagers are watching television shows such as "Diff'rent Strokes", "Inspector Gadget", "Fraggle Rock", and "G.I. Joe: A Real American Hero". Popular toys at the moment include Intellivision (games console), Strawberry Shortcake dolls, Fischer Price cassette player, and the Lego train set.
Cars in 1983.
1983 saw the introduction of cars such as the BMW M6, the Dodge Charger (1981), the Chrysler E-Class, the Ford Fiesta Mk2, the Renault 25 and the Honda Civic (third generation).

Were you born on this date?
If you were born on this date, then it is unlikely that you will remember anything from the year 1983.
This is because humans find it difficult to retrieve memories of their early childhood.
If you are looking for some childhood nostalgia, then you should check out December 28th, 1989, instead.