June 3rd, 2000.
June 3rd, 2000, was a Saturday. It was day 155 of 2000. The decade was the 2000s.
20 years, 11 months and 3 days have passed since June 3rd, 2000.
The zodiac star sign for this date is Gemini.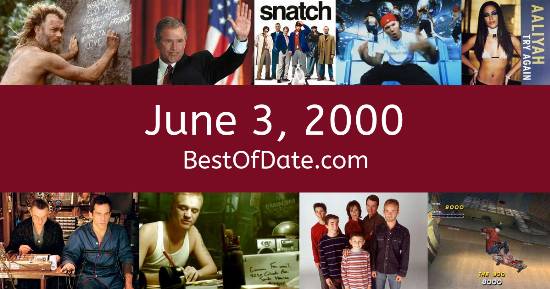 Take me back to June 3rd, 2000!
Let's take a stroll down memory lane!
The date is June 3rd, 2000 and it's a Saturday. Anyone born today will have the star sign Gemini. Currently, people are enjoying their weekend.
It's summer, so the temperatures are warmer and the evenings are longer than usual. In America, the song Maria Maria by Santana is on top of the singles charts. Over in the UK, Day And Night by Billie Piper is the number one hit song.
Bill Clinton is currently the President of the United States and the movie Mission: Impossible II is at the top of the Box Office. In the United Kingdom, Tony Blair is the current Prime Minister. The Nokia 3210 is currently one of the most popular cell phones on the market.
It's the year 2000, so the music charts are being dominated by the likes of Christina Aguilera, Faith Hill, Savage Garden, Destiny's Child, Santana, Sisqó, Creed, Aaliyah and Enrique Iglesias. Eminem has just released his best-selling album "The Marshall Mathers LP". On TV, people are watching popular shows such as "King of the Hill", "Recess", "The King of Queens" and "Will & Grace".
Meanwhile, gamers are playing titles such as "Ape Escape", "Tony Hawk's Pro Skater", "The Sims" and "Pokémon Stadium". Children and teenagers are currently watching television shows such as "Friends", "Blue's Clues", "SpongeBob SquarePants" and "Dora the Explorer". If you're a kid or a teenager, then you're probably playing with toys such as the PlayStation (PS1), the Game Boy Color, the Dreamcast and Poo-Chi (robot dog).