March 8th, 2001.
March 8th, 2001, was a Thursday. It was day 67 of 2001. The decade was the 2000s.
20 years, 2 months and 1 days have passed since March 8th, 2001.
The zodiac star sign for this date is Pisces.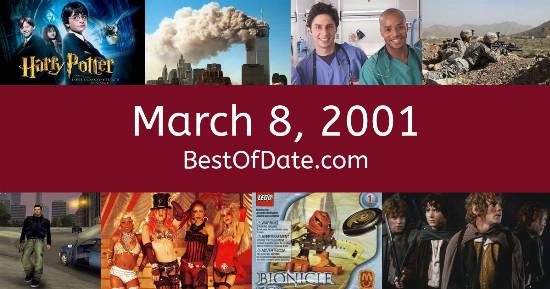 Take me back to March 8th, 2001!
Let's take a stroll down memory lane!
The date is March 8th, 2001 and it's a Thursday. Anyone born today will have the star sign Pisces. Spring has started to creep in and the days are beginning to get longer.
In America, the song Stutter by Joe & Mystikal is on top of the singles charts. Over in the UK, It Wasnt Me by Shaggy is the number one hit song. George W. Bush Jnr. is currently the President of the United States and the movie Hannibal is at the top of the Box Office.
In the United Kingdom, Tony Blair is the current Prime Minister. The Nokia 3310 is one of the most popular cell phones on the market at the moment. Stores across the world are currently selling a wide range of custom covers for the phone. It's 2001, so the music charts are being dominated by the likes of Christina Aguilera, Janet Jackson, OutKast, Crazy Town, Destiny's Child, Usher, Alicia Keys, Blu Cantrell and Jennifer Lopez.
The file-sharing website "Napster" is at the peak of its popularity. An outbreak of foot-and-mouth disease in the United Kingdom is currently causing a crisis in the British agriculture and tourism sectors. Cows and sheep are currently being killed in an effort to halt the disease. On TV, people are watching popular shows such as "Xena: Warrior Princess", "3rd Rock from the Sun", "Sabrina, the Teenage Witch" and "The West Wing".
Meanwhile, gamers are playing titles such as "Dead or Alive 2", "Diablo II", "Final Fantasy IX" and "The Legend of Zelda: Majora's Mask". Children and teenagers are currently watching television shows such as "Sabrina the Teenage Witch", "City Guys", "CatDog" and "Dora the Explorer". Popular toys at the moment include the likes of Groovy Girls, the Dreamcast, Razor (scooter) and the PlayStation 2.
2001 playlist.
A Spotify playlist of songs from 2001. Take a trip back to the peak days of Shaggy, Faith Hill, Eminem, Kylie Minogue and Shakira.