March 6th, 2002.
March 6th, 2002, was a Wednesday. It was day 65 of 2002. The decade was the 2000s.
19 years, 2 months and 3 days have passed since March 6th, 2002.
The zodiac star sign for this date is Pisces.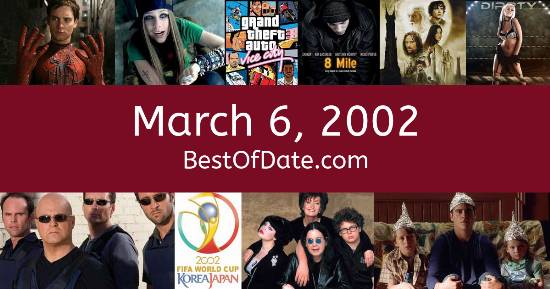 Take me back to March 6th, 2002!
Let's take a stroll down memory lane!
The date is March 6th, 2002 and it's a Wednesday. Anyone born today will have the star sign Pisces. Spring has started to creep in and the days are beginning to get longer.
In America, the song Ain't It Funny by Jennifer Lopez is on top of the singles charts. Over in the UK, Evergreen / Anything Is Possible by Will Young is the number one hit song. George W. Bush Jnr. is currently the President of the United States and the movie We Were Soldiers is at the top of the Box Office.
In the United Kingdom, Tony Blair is the current Prime Minister. The Nokia 3310 is one of the most popular cell phones on the market at the moment. Stores across the world are currently selling a wide range of custom covers for the phone. A popular software program called LimeWire is being used by many people to share MP3 files (and viruses).
It's 2002, so the music charts are being dominated by the likes of Ashanti, Nickelback, Nelly, Eminem, Usher, Blu Cantrell, The Calling, Linkin Park and Jennifer Lopez. On TV, people are watching popular shows such as "The Powerpuff Girls", "Malcolm in the Middle", "Dark Angel" and "24". Meanwhile, gamers are playing titles such as "Final Fantasy X", "Metal Gear Solid 2: Sons of Liberty", "Return to Castle Wolfenstein" and "Medal of Honor: Allied Assault".
Children and teenagers are currently watching television shows such as "Friends", "Sabrina the Teenage Witch", "That '70s Show" and "My Wife and Kids". If you're a kid or a teenager, then you're probably playing with toys such as Groovy Girls, Poo-Chi (robot dog), Razor (scooter) and Yu-Gi-Oh! Trading Card Game.