December 26th, 2004.
December 26th, 2004, was a Sunday. It was day 361 of 2004. The decade was the 2000s.
16 years, 4 months and 13 days have passed since December 26th, 2004.
The zodiac star sign for this date is Capricorn.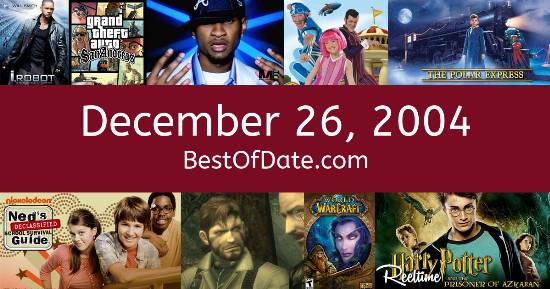 Take me back to December 26th, 2004!
Let's take a stroll down memory lane!
The date is December 26th, 2004 and it's a Sunday. Anyone born today will have the star sign Capricorn. Currently, people are enjoying their weekend.
Christmas Day of 2004 has just passed and many people are relaxing at home and enjoying the holiday season. In America, the song Drop It Like It's Hot by Snoop Dogg is on top of the singles charts. Over in the UK, Do They Know It's Christmas by Band Aid 20 is the number one hit song.
George W. Bush Jnr. is currently the President of the United States and the movie Lemony Snicket is at the top of the Box Office. In the United Kingdom, Tony Blair is the current Prime Minister. A popular software program called LimeWire is being used by many people to share MP3 files (and viruses).
Internet users are using MSN Messenger to chat with each other online. It's 2004, so the music charts are being dominated by the likes of Usher, Alicia Keys, Maroon 5, OutKast, Mario Winans, the Terror Squad and Ciara. On TV, people are watching popular shows such as "The West Wing", "Cold Case", "Pimp My Ride" and "Boston Legal".
Meanwhile, gamers are playing titles such as "Counter-Strike: Source", "Grand Theft Auto: San Andreas", "Killzone" and "World of Warcraft". Kids and teenagers are watching TV shows such as "That '70s Show", "Teen Titans", "Peppa Pig" and "Veronica Mars". If you're a kid or a teenager, then you're probably playing with toys such as Yu-Gi-Oh! Trading Card Game, Beyblades (spinning top toys), RoboSapien (toy robot) and the Nintendo DS.