August 29th, 2005.
August 29th, 2005, was a Monday. It was day 241 of 2005. The decade was the 2000s.
15 years, 8 months and 9 days have passed since August 29th, 2005.
The zodiac star sign for this date is Virgo.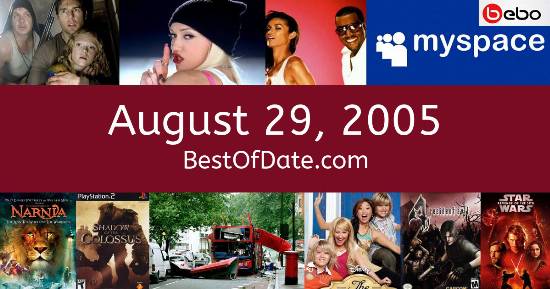 Take me back to August 29th, 2005!
Let's take a stroll down memory lane!
The date is August 29th, 2005 and it's a Monday. Anyone born today will have the star sign Virgo. The summer of 2005 is coming to an end and fall is just around the corner.
In America, the song We Belong Together by Mariah Carey is on top of the singles charts. Over in the UK, I'll Be OK by McFly is the number one hit song. George W. Bush Jnr. is currently the President of the United States and the movie The 40-Year-Old Virgin is at the top of the Box Office.
In the United Kingdom, Tony Blair is the current Prime Minister. A popular software program called LimeWire is being used by many people to share MP3 files (and viruses). Internet users are using MSN Messenger to chat with each other online.
Practically every teenager and adult has a MySpace or a Bebo account. It's 2005, so the music charts are being dominated by the likes of Mariah Carey, Gwen Stefani, Mario, Kelly Clarkson, 50 Cent, Kanye West and Ciara. Satirical factoids about actor Chuck Norris are extremely popular at the moment. These "Chuck Norris Facts" consist of absurd hyperbolic claims about Norris' toughness.
On TV, people are watching popular shows such as "Last of the Summer Wine", "24", "Punk'd" and "Pimp My Ride". Meanwhile, gamers are playing titles such as "Grand Theft Auto: San Andreas", "Killzone", "Metal Gear Solid 3: Snake Eater" and "Lego Star Wars: The Video Game". Kids and teenagers are watching TV shows such as "Bear in the Big Blue House", "Teen Titans", "LazyTown" and "The Suite Life of Zack & Cody".
Popular toys at the moment include the likes of Yu-Gi-Oh! Trading Card Game, RoboSapien (toy robot), the Nintendo DS and the PSP.