January 25th, 2015.
January 25th, 2015, was a Sunday. It was day 25 of 2015. The decade was the 2010s.
6 years, 6 months and 6 days have passed since January 25th, 2015.
The zodiac star sign for this date is Aquarius.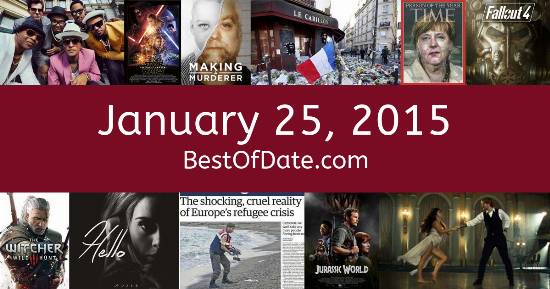 Take me back to January 25th, 2015!
Let's take a stroll down memory lane!
The date is January 25th, 2015 and it's a Sunday. Anyone born today will have the star sign Aquarius. Currently, people are enjoying their weekend.
The song Uptown Funk by Mark Ronson featuring Bruno Mars is on top of the singles charts in both the USA and the United Kingdom. Barack Obama is currently the President of the United States and the movie American Sniper is at the top of the Box Office. In the United Kingdom, David Cameron is the current Prime Minister.
A social networking website called Vine is extremely popular at the moment. It's 2015, so the music charts are being dominated by the likes of OMI, Bruno Mars, Ellie Goulding, Adele, Justin Bieber and Hozier. The 2015 Africa Cup of Nations is taking place in the Republic of Equatorial Guinea.
In Ireland, the trial of architect Graham Dwyer for the murder of Elaine O'Hara is currently receiving widespread media attention. In Greece, a left-wing party called SYRIZA has won the legislative election for the first time ever. On TV, people are watching popular shows such as "Two and a Half Men", "Community", "Homeland" and "Jane the Virgin".
Meanwhile, gamers are playing titles such as "Titanfall", "Destiny", "Alien: Isolation" and "Call of Duty: Advanced Warfare". Kids and teenagers are watching TV shows such as "Team Umizoomi", "Doc McStuffins", "Dog with a Blog" and "Paw Patrol". If you're a kid or a teenager, then you're probably playing with toys such as the Furby Boom, the PlayStation 4, the Xbox One and Frozen toys.