January 29, 2015
January 29, 2015, was a Thursday. It was the 29th day of 2015. The decade was the 2010s.
8 years, 10 months, and 5 days have passed since January 29, 2015.
The zodiac star sign for this date is Aquarius.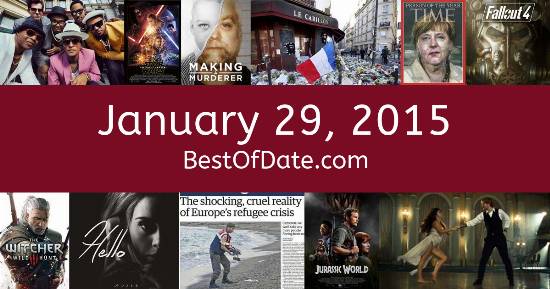 Take me back to January 29, 2015
Let's go back to the 2010s.
The date is January 29, 2015, and it's a Thursday. Babies who are born today will have the star sign Aquarius. The song "Uptown Funk" by Mark Ronson featuring Bruno Mars is at the top of the music charts in the United States and the United Kingdom.
Barack Obama is the President of the United States, and the movie American Sniper is at the top of the box office. David Cameron is the Prime Minister of the United Kingdom. On television, people are watching popular shows such as "Prison Break", "Homeland", "Peaky Blinders", and "Gotham".
A social networking website called Vine is extremely popular at the moment. It's 2015, so the music charts are being dominated by the likes of OMI, Bruno Mars, Ellie Goulding, Adele, Justin Bieber and Hozier. The 2015 Africa Cup of Nations is taking place in the Republic of Equatorial Guinea.
In Ireland, the trial of architect Graham Dwyer for the murder of Elaine O'Hara is receiving widespread media attention. In Greece, a left-wing party called SYRIZA has won the legislative election for the first time ever. If you were to travel back to this day, notable figures such as Leonard Nimoy, Terry Pratchett, Sawyer Sweeten, and Ben E. King would all still be alive.
People are playing video games such as "Assassin's Creed: Unity", "Far Cry 4", "Resident Evil HD Remaster", and "Dying Light". Kids and teenagers are watching TV shows such as "Phineas and Ferb", "WordGirl", "Jake and the Never Land Pirates", and "Austin & Ally". Children are playing with toys such as LEGO Duplo Creative Sorter, the Xbox One, Farm Mash-Up, and Minecraft action figures.
Were you born on January 29, 2015?
If you were born on this date, then it is unlikely that you will remember anything from the year 2015.
This is because humans find it difficult to retrieve memories of their early childhood.
If you are looking for some childhood nostalgia, then you should check out January 29, 2021, instead.