December 9, 2020
December 9, 2020, was a Wednesday. It was the 344th day of 2020. The decade was the 2020s.
3 years and 1 day have passed since December 9, 2020.
The zodiac star sign for this date is Sagittarius.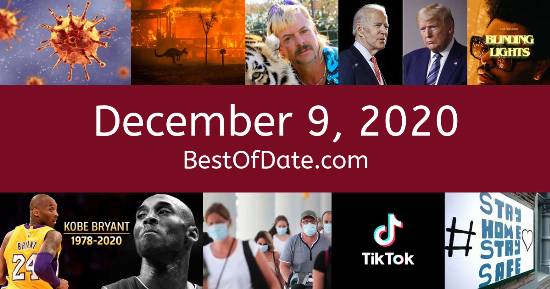 Facts
This date occurred 1,096 days ago. Approximately 37 months have passed. It was the 344th day of 2020, in week 50. The decade was the 2020s. There were only 22 days left in the year. A child born on this day is 3 years old and belongs to the Gen Alpha generation. 2020 was a leap year, which means that it had an extra day in February. The Earth has experienced 12 seasons of weather since then.
Take me back to December 9, 2020
Let's take a stroll down memory lane.
The date is December 9, 2020, and it's a Wednesday. Anyone born today will have the star sign Sagittarius. It is "Hump Day", so many are beginning to think about the weekend ahead.
The Christmas season of 2020 has begun. In America, the song "Life Goes On" by BTS is at the top of the singles charts, while "Positions" by Ariana Grande is the number-one song in the UK. Donald Trump is the President of the United States, and the movie The Croods: A New Age is at the top of the box office.
Boris Johnson is the Prime Minister of the United Kingdom. On television, people are watching popular shows such as "The Walking Dead", "Better Call Saul", "Stranger Things", and "Narcos: Mexico". If you were to travel back to this day, notable figures such as Brodie Lee, Tanya Roberts, Larry King, and Dustin Diamond would all still be alive.
Children and teenagers are watching television shows such as "Horrid Henry", "Agents of S.H.I.E.L.D.", and "The Loud House". Children are playing with toys such as the Xbox Series X and the PlayStation 5.
Personality traits
Check out our personality summary for people who were born on December 9, 2020.
What are your strengths and weaknesses?
How old was I?
Find out what your age was on December 9, 2020, by entering your DOB below.
This information is not saved on our server.