December 24, 2020
Christmas Eve
December 24, 2020, was a Thursday. It was the 359th day of 2020. The decade was the 2020s.
2 years, 11 months, and 17 days have passed since December 24, 2020.
The zodiac star sign for this date is Capricorn.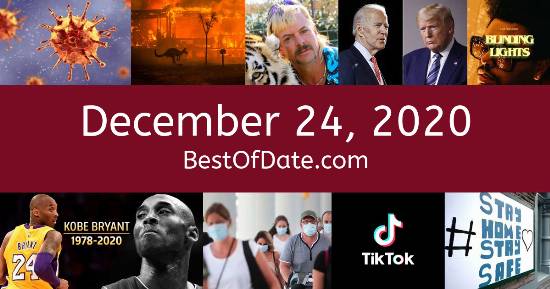 Facts
Christmas Eve 2020 was 1,081 days ago. Approximately 36 months have passed. It was the 359th day of 2020, in week 52. The decade was the 2020s. The start of 2021 was just 7 days away. A child born on this day is 2 years old and belongs to the Gen Alpha generation. 2020 had 366 days because it was a leap year. 12 seasons of weather have come and gone since then.
Take me back to December 24, 2020
Let's take a walk down memory lane.
It is Thursday, December 24, 2020. Babies who are born today will have the star sign Capricorn. It's Christmas Eve of 2020. The big day is fast approaching and the excitement is building. Department stores are filed with people trying to do some last-minute shopping.
The song "All I Want for Christmas Is You" by Mariah Carey is at the top of the music charts in the United States and the United Kingdom. Donald Trump is the President of the United States, and the movie Monster Hunter is at the top of the box office. Boris Johnson is the Prime Minister of the United Kingdom.
If you were to travel back to this day, notable figures such as Brodie Lee, Tanya Roberts, Larry King, and Dustin Diamond would all still be alive. On TV, people are watching popular shows such as "Black-ish", "Better Call Saul", "Stranger Things", and "Narcos: Mexico". Children and teenagers are watching television shows such as "Horrid Henry", "Agents of S.H.I.E.L.D.", and "The Loud House".
Popular toys at the moment include the Xbox Series X and the PlayStation 5.
Personality traits
Check out our personality summary for people who were born on December 24, 2020.
What are your strengths and weaknesses?
How old was I?
Enter your date of birth below to find out how old you were on December 24, 2020.
This information is not transmitted to our server.