December 19, 2022
December 19, 2022, was a Monday. It was the 353rd day of 2022. The decade was the 2020s.
11 months and 22 days have passed since December 19, 2022.
The zodiac star sign for this date is Sagittarius.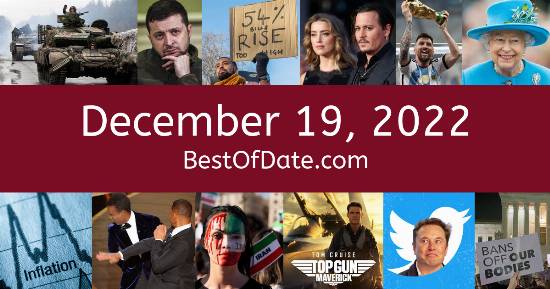 Facts
This date occurred 356 days ago. Approximately 12 months have passed. It was the 353rd day of 2022, in week 51. The decade was the 2020s. The end of 2022 was just 12 days away. A baby that was born on this day is now 11 months old. We have gone through approximately 4 seasons of weather since this date.
Take me back to December 19, 2022
Let's take a walk down memory lane.
The date is December 19, 2022, and it's a Monday. Babies who are born today will have the star sign Sagittarius. The weekend has just passed, so some people are feeling a bit down. Others are tired after partying too much.
The Christmas season of 2022 is in full swing. People are putting up their decorations and festive songs are playing on the radio. The song "All I Want for Christmas Is You" by Mariah Carey is at the top of the music charts in the United States and the United Kingdom. Joe Biden is the President of the United States, and the movie Avatar: The Way of Water is at the top of the box office.
Rishi Sunak is the Prime Minister of the United Kingdom. On television, people are watching popular shows such as "Grey's Anatomy". If you were to travel back to this day, notable figures such as Maxi Jazz, Pele, Pope Benedict XVI, and Gianluca Vialli would all still be alive.
Children are playing with toys such as the Xbox Series X and the PlayStation 5.
Personality traits
Check out our personality summary for people who were born on December 19, 2022.
What are your strengths and weaknesses?
How old was I?
Find out what your age was on December 19, 2022, by entering your DOB below.
This information is not saved on our server.